Just how desperate is Jon Gosselin for a buck?
According to ex-girlfriend Hailey Glassman, the former "Jon & Kate Plus 8" star tried to extort bewteen $50,000 and $100,000 from ex-wife Kate by threatening to report her to Child Protective Services if she didn't cough up the cash.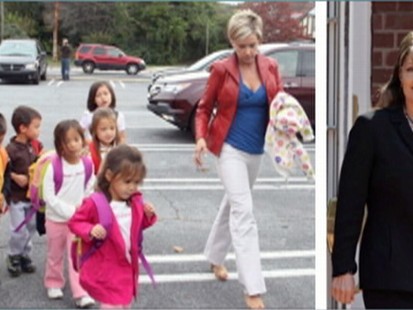 "We were in bed and Jon called Kate on speaker phone," Glassman told
Radar Online
in a story posted on its website Wednesday. "He wrote down what he wanted to say to her and then he read from his notes. He told her 'You either give me money, or I'm going to call CPS.'"
Shortly after the story appeared online, Gosselin took to his Twitter account to take down Glassman.
"Radaronline has been duped again by Hailey Glassman, who is apparently without a job and desperate for money," he tweeted. "This article contains so many lies, they are too numerous to count. It is completely false and without any merit."
Asked by ABCNews.com to respond to Glassman's claims, a representative for Kate Gosselin replied, "no comment."
Glassman painted a portrait of a man obsessed in her interview with Radar Online.
"I was in the background asking 'What is CPS?' And Jon told me, 'Child Protective Services,'" Kate started screaming and Jon just started laughing. He just laughed at her. Later when he got off the phone I asked him, 'What are you doing? Why are you doing this? This is the mother of your eight children!' And he told me, 'Oh, you don't know what I went through with her, what I had to deal with.'"
According to Glassman, Gosselin had a habit of making calls like these throughout their months-long relationship and kept a trove of handwritten notes detailing what he wanted from his ex-wife in his New York City apartment. She said that despite Kate's protests, the mother of eight paid up.
"Kate would get upset and scream at Jon, but she'd always give in, because he'd tell her, 'I'm going to go to the news and tell the world how you treated Mady," Glassman said. "I would say to him, 'How can you do this to people?' I'd say, 'What are you doing with TLC? Just do what they want, stop hurting Kate, stop blaming her.'"
Even more disturbing: In his notes, Gosselin would refer to himself in the third person.
"I found it so strange," Glassman said, noting that in one note, he wrote, "Jon giving Kate ultimatums. He privately extorts Kate." "It was almost like he thought he was still on camera," she said.
Now that he's no longer on TV, Gosselin, 33, is mulling over ways to make money. He's reportedly working on a book with life coach Sylvia Lafair. But unlike his ex-wife, who's written three tomes on bringing up babies, Gosselin won't be waxing poetic about parenting.
"Just to clear the air, I am not writing a parenting book," he tweeted late last month, responding to rumors that his book would be about the trials and tribulations of bringing up sextuplets and twins. "I am not at liberty to discuss what my book is about yet."