One year older, one year wiser?
It remains to be seen if the old adage applies to one Kate Gosselin, who turned 35 years old Sunday before trotting across the floor of "Dancing With the Stars" Monday night.
Her jive was nothing short of juvenile. Attempting to mimic her professional partner Tony Dovolani's footwork, Kate Gosselin looked like a kid just learning how to distinguish left from right. Throughout, she wore a terrified expression on her face, as if her legs just might give up on her altogether.
Elton John's "I'm Still Standing" blared in the background, and while Kate Gosselin remained upright at the end of Monday's performance, she may not be singing that tune for long. She and Dovolani scored only 15 out of a possible 30 points, making them prime contenders to get axed in tonight's elimination.
Which could be fine by him: in rehearsal footage aired before their performance, Dovolani revealed his rage at Kate Gosselin's lack of talent, venting that "Nothing in dancing is natural to Kate." As she nagged him again and again about the moves, he growled, "I've never been questioned in my teaching," before exploding, "I quit."
After a commercial break, Dovolani returned to his clueless student and apologized. No stranger to getting ditched by dudes, Kate Gosselin took it in stride, forgiving him and noting, "a lot of people quit on me in life."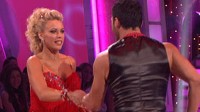 Subpar though her skills may be, it's hard to blame the reality TV mom for getting her kicks from "Dancing," considering how things unraveled for her when she was 34. Below, a look back on 10 highlights and lowlights since Kate Gosselin's last birthday.
May 12, 2009: Trashing the tabloids. With rumors swirling about her husband's affair with a schoolteacher and her transgressions with the family's bodyguard, Gosselin lashed out at the media. "The next story coming out from the animals that stalk us is about our security person and his family," Gosselin told People magazine, referring to bodyguard Steve Neild. "Already the allegations they're making about me are disgusting, unthinkable, unfathomable, and I am horrified."
June 22, 2009: Gutting the house of Gosselin. Just a few weeks after the first reports about her rocky marriage, Gosselin set the tabloids' story in stone. During a special edition of "Jon & Kate Plus 8" that initially focused on the gang building toy homes, Mom and Dad revealed the cracks in their foundation.
"Yes, Kate and I have decided to separate," Jon Gosselin said at the end of the show.
"I'm not very fond of the idea, personally, but I know it's necessary," Kate Gosselin said. "My goal is peace for the kids." The same day, they filed for divorce in a Pennsylvania court.
Aug. 3, 2009: Into the Wild. After more than five weeks off TV, "Jon & Kate Plus 8" returned to TLC with a new episode that showed Kate Gosselin trying to navigate the wilderness and single mom-hood simultaneously.
"If I have never grilled before, I'm gonna grill," she said in the episode. "If I have never camped before, I'm gonna camp. It might take me a while, but I can figure it out. My new attitude is, I can do."
Unfortunately, one thing the show could no longer "do" was generate ratings -- "Jon & Kate Plus 8's" ratings took a dive with the Aug. 3 episode; the free-fall continued through September. According to TVbytheNumbers.com, 4.2 million people watched "Jon & Kate Pus 8" on Aug. 3, compared with 10.6 million on June 22. That number fell to 1.7 million by Sept. 21.