An empty stage adorned with a circular rug, red armchair and small coffee table drew a crowd of 400 theatre students at the University of Texas at Austin.
Instead of holding playbills, they grasped each other's hands.
Instead of the usual vocal warm-ups, they sat in silence.
The scene was set.
The lights went up.
And within seconds, the silence was shattered by screams of "Oh my God!" and "I can't believe it's her!" as the leading lady walked onto stage: actress Meryl Streep.
"Today is a day 10 years in the making, and a true test to the power of nagging," theatre professor and lifelong friend Fran Dorn said.
Dorn, who studied at Yale University with Streep, introduced her to a standing ovation of actors, actresses, directors and costume designers. Sharing everything from Streep's childhood (she was a cheerleader) to her 166 award nominations and 16 Academy Award nominations, Dorn deemed her the most influential actress of our time.
"Imagine how many dresses I had to buy," Streep said.
The discussion, held last weekend, was titled "A Conversation With Meryl Streep," an audience-based question and answer forum. Dorn hoped the event would rejuvenate students pursuing jobs in the theatre industry, helping them understand that even the most prominent role models in the business have faced trials and tribulations.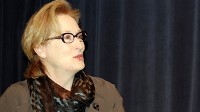 Ashley Jennings/ABC News on Campus
For an hour and a half, students were able to pass the microphone, asking questions about Streep's journey as an actress and the theatre world.
First-year graduate student Amanda Morish asked how Streep balances her home life with her career.
"She said to cherish the relationships you have and nurture them," Morish said. "Your world gets so crazy, and I was astounded at how grounded she was."
The graduate students even got the opportunity to have lunch with Streep.
"I'm speechless -- I can't really describe in words," graduate student Mykal Monroe said. "I believe in magic, and it was a very magical moment."
Feeling "at home" in the theatre department, Streep jokingly said she was open to any questions except about her weight. She stressed the importance of the stage and treating it as your "temple," making every day an opportunity to perfect your art.
"I believe in the work that I've chosen: it's the altar of everything I believe and care about," Streep said. "I think of it as, that's my church. Every time I get lazy I think, 'This is your church Meryl!'"
Streep also spoke about her early days at Yale in 1972 and some of the professors she had. One vivid story included a teacher that wore English riding boots and took his crop to class "which he would slap against his boot if he didn't like something."
She says it was in that class that she shed some of her first tears on stage. Her teacher had told them to imagine someone in their life who had died, but she had a different approach.
"I couldn't do it, I couldn't think about anybody that I loved dying," Streep said. "So I got up on stage and I imagined I was the most famous actress in the world, and I was really, really old, like 45. I was on stage at the Academy Awards announcing my retirement because I was so old -- tears rolled down my cheeks!"
Senior theatre arts and dance major Lilly Wolf says tears of laughter rolled down her own cheeks as Streep spoke to the crowd.
"There's energy, this confidence she's renewed among us," Wolf said.