Robert Pattinson draws crowds. Throngs of teenage girls crowded New York's Paris Theater for the premiere of his newest movie, "Remember Me."
The film, a love story set in New York City in the summer of 2001, seemed to inspire jaded New York journalists. On the red carpet the air was brisk with anticipation as reporters, dressed as if they were going to a prom (think full-length silk gowns), whispered their own romantic R-patz fantasies.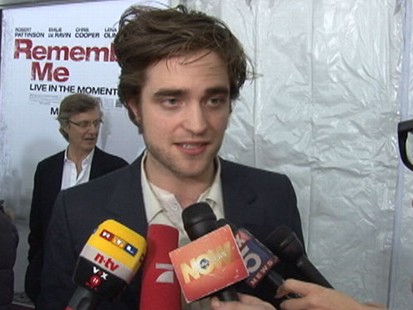 When Pattinson finally arrived for interviews, there was a collective gasp. "He's so tall!" one watcher sighed.
Before he met the media, Pattinson lingered in front of photographers, giving his female co-stars ample opportunity to gush.
Emilie de Ravin, who plays Ally, Pattinson's love interest in the film, told ABCNews.com, "He's just a really genuine, down to earth, sweet guy…You know, we're friends and… he's honest about everything … that's sort of a great quality."
Child actress Peyton List, who also stars in the movie, said, "[Working with Robert Pattinson] was so much fun. It was different because there were so many girls on the set, just swarming the buildings that we shot in or outside, and there were so many paparazzi...."
The film's director, Allen Coulter, talked about Pattinson's chemistry with de Ravin. "I cast two young actors who I thought were right...and [they] got along famously on and off camera…The two of them got together [and] just seemed to…be in sync."
And there was this from Pierce Brosnan, who plays Pattinson's father in the film: "Robert Pattinson's [a] cool dude.... Long may it last."
No Questions, Please, About Kristen Stewart
Lena Olin, who's also in the film, compared the two men: "As an actor, obviously Pierce is so much more experienced… but I think they're very much alike," she said. "Rob likes to experiment a lot and try 10 million things and… that's a great thing…I think Pierce does that, too, maybe a little less because he has much more experience. But they're both such a joy to work with, such sweet, open, wonderful men."
Pattinson, famous for his now-iconic role as vampire Edward Cullen in "Twilight," has become unavoidably linked with his on-screen and rumored off-screen lover from the series, Kristen Stewart. Stewart is now the elephant in the room in many Pattinson interviews: He won't admit to their relationship, the two are rarely photographed together by choice, and Pattinson's publicist encourages reporters to avoid asking him "personal" questions.
Robert Pattinson Draws Sighs at 'Remember Me' Premiere
True to form, at the "Remember Me" premiere, Stewart hurried down the red carpet alone without taking questions.
When asked about the difference between his on-screen chemistry with de Ravin and Stewart, Pattinson avoided direct mention of Stewart and told ABCNews.com, "Edward and Tyler [his "Remember Me" character] are incredibly different… I mean Edward's sort of trademark thing is restraint all the time and Tyler just constantly acts on every impulse he has with abandon, so it makes it very different.
"He's much more… in control of the relationship, whereas in 'Twilight,' you know, he's not at all. I always felt that Edward was completely dictated, his actions dictated by Bella's actions."
Sans vampires, will viewers gush over Pattinson's performance in "Remember Me"? Time and box office dollars will tell. The film opens nationally March 12.