NEW YORK — When Whoopi Goldberg was offered a six-week stint in the Broadway musical "Xanadu," she thought she had found the perfect way to spend her summer. "The thing I forgot to ask is, 'When does it start?' " In fact, Goldberg stepped into the hit show July 29, two days before wrapping her first season as moderator of "The View"— which meant spending weeks juggling the popular morning program with rehearsals for "Xanadu." Through Sept. 7, she's filling in for actress Jackie Hoffman as the goddess Aphrodite and Calliope, the envious sister of the fair muse Kira (Kerry Butler).
The dual role isn't the lead but "I like working," Goldberg says. A supporting part "allows me to do my little thing and also enjoy what other folks are doing."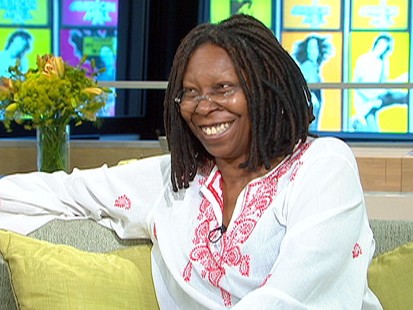 And she's happy to be back on Broadway, where she got her big break in 1984 as writer and star of a self-titled one-woman show. She has returned periodically since in a variety of productions, including revivals of the Stephen Sondheim musical farce "A Funny Thing Happened on the Way to the Forum and the August Wilson drama Ma Rainey's Black Bottom."
"To me, Broadway is where all the magic really happens," says Goldberg, 52. "I think there's nothing better than sweaty actors on a stage."
Goldberg saw "Xanadu," winkingly adapted from the lambasted 1980 roller-disco flick, in July 2007, and raved about it on the syndicated radio program she was hosting at the time. "I loved it, loved it, loved it, and I wanted to get people to understand that this was just a great evening of fun. You don't have to be a rocket scientist to figure it out."
The gig is perfect for Goldberg, says Adam Feldman, "Time Out New York" theater critic. "She got her start on stage, and this show is so gleefully campy that she can be both a stage actress and a famous person camping it up."
Goldberg's Broadway credits also extend behind the curtain. She won a Tony Award in 2002 as producer of the musical "Thoroughly Modern Millie," and is readying a new production of Ntozake Shange's 1976 play "For Colored Girls Who Have Considered Suicide When the Rainbow Is Enuf," starring singer India Arie.
It was announced last week that the revival won't open Sept. 8 as planned. "We had a couple of major donors who … didn't look at the title," Goldberg says. "They said, we can't say 'for colored girls' or 'suicide' — we certainly can't say them in the same sentence. I was like, did you not know this play? But more money is coming in — I say that with toes and fingers crossed."
Goldberg is more ambivalent about the movie business. She announced her retirement from acting last year. "I thought, I'm getting older and I want a break, from the film industry and just from performing. I'm ready to go to Greece — that's where I'm going to retire, to Patmos. But then my grandkids were like, 'You'd be leaving us, and we're not ready.'
"So here I am. I'm doing 'The View'— I'll be there for another year, God willing, if I don't get hit by lightning or something. I'll get back to movies at some point. But I think the stage will always be the place that I can come back to. As long as there are two people and one little platform, I'll keep coming back."