Bad boy behavior -- American-style -- always culminates in a public apology. How many ways can the rich and famous say, "I am a cad"? Consider these.
Use a Big Word: "I have let my family down and I regret those transgressions with all of my heart." -- Tiger Woods, 2009
Admit You're a 'Creep': "I do terrible, terrible things." -- Late Show Host David Letterman, 2009
Try to Get Back in Good Graces (Not): "I am going to try to fall back in love with my wife!" -- S.C. Gov. Mark Sanford, 2008
Invite Flogging: "If you want to beat me up feel free." -- Presidential candidate John Edwards, 2008
Invoke Civic Duty: "I apologize to the public, whom I promised better." -- N.Y. Gov. Eliot Spitzer, 2008
Come out of the Closet -- "I am a gay American." N.J. Gov. James McGreevey, 2004
Buy a Big Rock -- "I love my wife with all my heart" -- NBA Star Kobe Bryant, 2003
Blame Press, Dump Wife: "You should be ashamed of yourselves." -- N.Y. Mayor Rudy Giuliani, 2001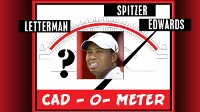 ABC News Photo Illustration
First Lie : "I did not have sexual relations with that woman," and then Talk to God: "I sinned." -- Bill Clinton, 1999
Goad the Press: "Follow me around. I don't care." -- Colorado Sen. Gary Hart, 1987
Is there any good way to come clean? And what can history tell us about how Tiger Woods might confess to tail-chasing? Enquiring minds want to know.
"The best model for Tiger is Kobe Bryant," said Ask E. Jean, the relationship counselor from Elle magazine. "Did you see the size the rock on that girl's hand?"
Three days after prosecutors charged the NBA megastar with the rape of a 19-year-old employee at a Colorado resort, Bryant bought his wife an 8-carat purple diamond ring worth about $4 million. (Charges against Bryant were later dropped after the complainant refused to testify.)
"Tiger, give your wife Elin a big ring -- big, big -- and tell her she is right and tell her that for the next year," E. Jean told told ABCNews.com. "Tell her you are sorry and not going to do it anymore. That you learned a lesson and the pain was too great."
America's obsession with the sex lives of powerful figures may have begun as early as 1974. A drunk, 74-year-old House Ways and Means Committee Chairman Wilbur Mills was stopped by Washington, D.C., police at 2 a.m. with his companion, stripper Fanni Fox -- the "Argentine Firecracker" -- who jumped into the Tidal Basin
Former Colorado Sen. Gary Hart may have been the first to get caught in his flagrant tryst with Donna Rice aboard the yacht, "Monkey Business," when he was a presidential hopeful in 1987.
He taunted the press to catch him in flagrante delicto and then acted surprised when they did.
We've come a long way, baby, from President Bill Clinton's excuse for having sex with intern Monica Lewinsky. ["That depends on what you mean by the word is," he famously told inquisitors.]
Woods offered a "profound apology" Wednesday, the same day tabloid magazines named a third woman, Las Vegas nightclub marketing executive Kalika Moquin to his list of alleged sexual conquests.
Moquin refused to confirm or deny the allegations, but waitress Jamie Grubbs claims to have slept with Woods. New York party promoter Rachel Uchitel has also denied having affair.
News began to leak out nearly one week ago after the Florida Highway Patrol reported Woods was in "serious condition" after an early morning car accident on his gated estate.