In her new book "Lists for Life: The Essential Guide to Getting Organized and Tackling Tough To-Dos," Rory Tahari offers checklists and tips for handling major life events, such as traveling overseas, selling a car, planning a wedding, buying a house, coping with a divorce and planning a funeral.
After reading the excerpt below, head to the "GMA" Library to find more good reads.
Click here to visit Rory Tahari's Web site.
INTRODUCTION
I have been a compulsive list maker since I was old enough to write. Some detractors might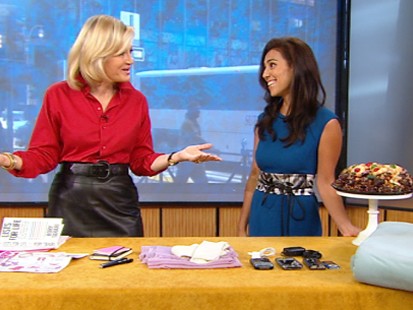 suggest the word obsessive, but I like to think that I am highly functioning and efficient. Other list-obsessed women I'm aware of (Madonna) seem to back up my claim. In any case, from the packing list I compiled for summer camp as an eleven-year-old to the college application checklist I already have handy for my kids (who are all under the age of ten), I like to deal with life's challenges one step at a time. For years, I was a personal resource library for friends and family who needed information. The minute someone got pregnant, engaged, bought a house, or experienced any other milestone, my phone would start ringing. I was always happy to dash off a list and was proud that my checklists were helping others navigate life. When I started getting calls from friends of friends asking me to share my checklists for life's difficult moments, I realized it was time to go public.
So here it is. This book isn't a beach read; it's not chick lit. Instead, it's more of an owner's manual for Keep it on the shelf with your reference books, in the kitchen near your day calendar, by your bedside, or anywhere that's handy. When you find yourself in need of a road map, tear out the appropriate chapter, tape it to your computer, and let me help you break down an overwhelming or challenging situation, step by step. I know that sometimes the toughest part of tackling a to-do can be figuring out how to get started, and I hope that the following checklists, resources, action items, and suggestions will have you on your way to a more organized and less stressful life.
TRAVEL
I love to travel. I love to see new places, eat new foods, and, of course, shop. However, my love of travel is almost equal in measure to my aversion to packing. I have often thought that my ideal vacation spot would be a nudist resort. Sunscreen? Packed! And not much else.
But alas, travel planning and packing are the prices one pays to delight the senses with new experiences. That being said, nothing can kill a good time like forgetting your antinausea medication or realizing, in midair, that you never reconfirmed your hotel reservation.
Follow my handy guide to preparing for your trip and, whether you are a senior or taking along Junior, you will be on the road to fun and adventure! And if you're still not into packing after reading this chapter, follow the advice of my first boss who always told me that I could forget anything as long as I have my credit card, passport, and driver's license. You can always buy the rest!
TIMELINE
Seven to Ten Days Prior to Leaving for a Trip
• Get cash or traveler's checks if necessary.
• Take care of any beauty appointments.
• Cancel any recurring appointments you will miss.
• Type up an itinerary and a list of important phone numbers needed for the trip. Include emergency phone numbers and the number of the nearest consulate if you are traveling abroad.
• Start thinking about what you want to pack and tie up any loose ends (i.e., pick up items you want to take from the dry cleaner).
• Alert friends and/or family that you will be out of town.
Two Days Before Departure
• If traveling abroad, alert credit card companies that you are traveling overseas. For all trips, let them know that you will be charging more than usual so they don't suspend your card due to suspicious activity.
• Put a hold on any delivery services (mail and newspapers) if you're going to be away for more than a few days.
• Set a timer for the lights in your house so they come on at night and it appears you are home.
• Alert your neighbors that you will be out of town; ask them to be watchful.
• Prepay your bills that might come due in your absence.
• Check the weather report for your destination so you will pack appropriately.
• Refill any medication you will need for travel.
• Pack! (See packing checklist on page 156.)
One Day Before Departure
• Reconfirm all hotel reservation requests.
• Reconfirm your seat assignments with the airline and ask to be added to the standby upgrade lists.
• Set your email on auto-reply.
• Be sure you know how to check your email and voice mail messages from anywhere in the world.
• Give a spare house key to a family member, friend, or neighbor in case of emergency.
• Water your plants.
• Empty your garbage cans.
• Empty the washer and dryer.
• Hide your jewelry, valuables, and important financial documents.
• Charge your cell phone, BlackBerry, and any other electronic devices you want to take.
• Print out directions to your destination and any phone numbers you may need.
• Give your contact information to family or close friends so they can get in touch with you in case of emergency.
• Clean out the refrigerator.
• Run the dishwasher.
Day of Departure • Turn off air-conditioning or turn down heat.
• Unplug all major appliances.
• Turn off the washing machine water valve to avoid flooding.
• Check the oven and stove to make sure they're completely off.
• Check all doors and windows to make sure they are closed, locked, and secure.
• Throw out garbage.
• Be sure to pack all of your medication in your carry-on bag in case your luggage gets lost.
• Pack snacks to bring on the plane with you in case there are delays, and especially if you have young children.
• Check in for your flight online. This will save you time standing in line at the airport.
• Confirm that your flight is on time and what terminal/gate you are departing from.
• Make sure younger kids are wearing Velcroclosure or slip-on shoes. This makes it much easier to go through airport security.
• Tidy up (it's always nice to come home to a clean house).
• Set the alarm.
• Lock the house.
• Have fun!
After the Trip
• Reinstate all your deliveries.
• Plug in appliances.
• Try to spend the day after your trip as a vacation day or come home on the weekend so you can take care of everything that needs to be taken care of.
• Schedule a massage (traveling is stressful).
• Make a photo album of your trip.
PHONE NUMBERS TO TRAVEL WITH
If possible, bring email addresses as well, when applicable. Airline (the 800 number); also know your frequent flier number.
Car rental company
Cell phone numbers of everyone traveling with you; know their passport numbers as well.
Concierge
Credit card companies, in the event your cards are lost or stolen
Doctors (all family doctors)
Family and friends at destination
Family to call in case of emergency
Friends to call in case of emergency
Hotel phone and fax number
Nearest consulate in case your passport is lost or stolen
Nearest hospital. Have the address, too.
Nearest pharmacy. Have the address and fax number.
Restaurants where you have reservations Travel agent