Dominique Browning's "Slow Love: How I Lost My Job, Put On My Pajamas & Found Happiness," tells the story of how Browning lost her job as editor at House & Garden magazine, and as a consequence, also lost her focus in life.
With humor and insight, Browning tells how she eventually found insight, purpose and happiness.
Read an excerpt of the book below, and then head to the "GMA" Library to find more good reads.
THE INTERTIDAL YEARS
The wind often dies down in the afternoon. The pond is a glassy black; it is a good time to go out in the kayak. Theo has returned to school, the summer renters have left as well, and the whole town seems to breathe easier, decongested. I have been alone for the last week, enjoying an unusual amount of solitude -- no visitors, no dinner parties, no deadlines, and no need for phone calls. Just my piano, my journal, my books, and the coyotes, foxes, minks, otters, raccoons, possums, bats, birds, snakes, and owls at my doorstep.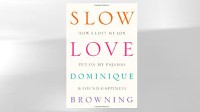 It will be an easy trip across the pond to the barrier beach, where I'll take a long walk and a swim in the ocean before dinner. I get the paddle and rubber boots out of the garage. It gives me pleasure to set out on this journey with a small bag containing only what will fit with me in the boat: goggles and a towel. My field glasses hang from my neck. I have a debate with myself about the cell phone. That old anxiety, but am I really going to need to call the coast guard for rescue? I don't want to become unable to disconnect. Trouble will wait. Good news ripens in delay. I set off without the phone.
I head out the back door and down the path mowed through the meadow to the edge of the water. I am careful not to step in a small creature's hole. If I wrenched an ankle, who would help me? I'm annoyed at that tinny voice that natters through my days. My parents, my sister, my children, and my friends all tell me to be careful. Don't swim by yourself. Don't go so far out. Don't use the kayak alone. Don't leave your doors unlocked. What are you doing up there, all by yourself? They're expressing love, I remind myself. But their worry is contagious, making me nervous, and I get the distinct feeling that they disapprove of my solitude; it also makes them anxious. So be it. I have finally come to embrace it. Someone once explained to me the difference between an introvert and an extrovert: both can enjoy going to a party, but the extrovert is energized by society, whereas the introvert has to recover from it. My batteries get drained easily these days, and need recharging in silence. Alone, I am willingly, cheerfully thrown upon myself.
It has been a beautiful September day, and the air is fresh and clear. What a gift to be able to go where I want. I am no longer young, but after all, I am not yet so old. Although I worry about pulled muscles, I am not at all frail. Even though I live alone, I live in the watchful care of loving friends and family. I take a deep breath, feel my lungs stretch against my ribs, and blow out the day's fears. I am strong, healthy, vibrant, and thankful. I have the energy and the will to get going. I have learned by now that getting going is the most important thing.