The nation watched as twins Mary-Kate and Ashley Olsen grew up. From their beginnings as the youngest Tanners on the sitcom "Full House" to their successful clothing and movie enterprises, there isn't much the Olsens haven't done.
By age seven, they had their own company and spent their next years growing their brand to DVDs, toys and a line of children's books. Last year, Forbes magazine listed them among the top 20 wealthiest women in entertainment.
They seem to live a life of glamour. They are frequently spotted on the red carpet or seated in the front row of fashion shows from New York to Paris.
Now the pair has written a book called "Influence" to give readers insight into the people who helped shape them into the women they are today. Read an excerpt of their book below, and click here to see more from the "GMA" library.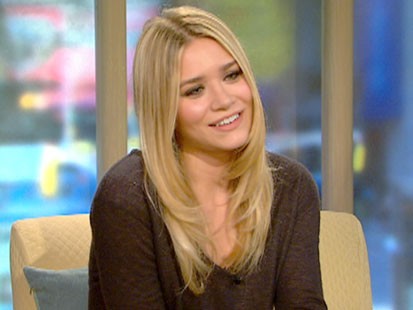 Also, check out Mary-Kate and Ashley Olson's website by
clicking here
.
Introduction
Hard work has never been something someone taught me or something I simply picked up from someone else. Maybe it's a by-product of landing my first job at six months old, but I've never believed that there were boundaries or limits to anything I set my mind to. For the first time in my life, I'm in complete control of my destiny. Like everything you put out there for the universe to see, it all comes back to you. I'm finding out that taking my life to the next level is all about discovery. Being aware of the world around you requires you to pay attention to everyone and everything. But in order to stay grounded, you have to stay true to yourself. Diane von Furstenberg once told me, "You have to be your best friend." I believe that.
None of us is in this game alone. With each project I begin, I'm reminded of the importance of listening, of appreciating and taking advantage of all the creative, dynamic, and wonderfully bizarre people in my life. And like any good listener, I know it's my duty to share this wealth of influence with others. Whether it's my family, my friends, a novel I've read a hundred times over, or my favorite painting, I'm really just the sum of many different parts. Ultimately, that's what this book is all about. I've been inspired, surprised, supported, and, yes, influenced by every person I've talked to in this book. Their stories, bodies of work, and lives are like open vaults of creativity for me. Some, like Christian Louboutin, I talk to all the time. I admire him both as a friend and as an artist. Others, like George Condo, I am just beginning to get to know. And then there are people like Lauren Hutton, who can give you a thousand pearls of wisdom with just her smile. Whenever life feels like a dreary place, these individuals know how to make the most out of any situation. I turn to the people on these pages, in one way or another, to keep me afloat.
The book you are holding in your hands is comprised of conversations my sister and I have had with artists, designers, photographers, writers, and personalities who come from different backgrounds, industries, age groups, and points of view. Risk takers in their own special way, they share a common belief that the world should never be a boring place. To put it bluntly, they have guts. I don't want the dialogue to stop at the end of each interview. It's my hope each one will remain a constantly evolving conversation that will continue to influence every project that I do—and perhaps by reading, you will be similarly affected by these interviews too. I believe part of the process of figuring yourself out is a way of connecting the dots between the fabulous and influential people around us all, like some sort of hidden constellation—you only have to know where to look. This book is just the start.
—Ashley Olsen
Lauren Hutton
They just don't make 'em like Lauren Hutton anymore. Lauren has opened our eyes to the world in an entirely new way. We had been obsessed with her style for years, but we never had the chance to formally meet her in person. After Ashley rattled on about how amazing she thought Lauren was to a mutual business acquaintance, we were finally given the opportunity for an introduction, which we quickly took advantage of. Needless to say, Lauren was everything we thought she would be. In every aspect of her life, Lauren is a pioneer. She refused to correct the gap between her teeth when she entered the modeling scene in 1964, and this "imperfection" became one of her most recognizable and beloved traits. She was one of the first models to negotiate a major cosmetics contract. She founded her own brand of cosmetics, "Good Stuff." She posed nude for Big magazine at the age of 61. Whether she's crisscrossing the globe to hike, camp, or simply explore, there's just no stopping her. Lauren is one of the wisest, most compassionate, and most free-spirited people we know. She juices the joy out of everything she touches. She even calls herself our "God-Granny." So when we were selecting the model for The Row's Spring 2008 look book, we knew there was no one else to ask but Lauren Hutton.
Diane von Furstenberg
When we left Diane von Furstenberg's office in the Meatpacking District of New York City—housed in a building her empire built—one thing she told us in our interview resonated. She called herself Diane the Hunter. We are drawn to strong women, and Diane's tales of following her own path since she was a young woman living with her Holocaust survivor mother in Belgium are an inspiration to us. This hunter always pursued what she wanted, whether it was a life with her children in New York, an identity as a powerful icon of femininity, or a role as the head of a fashion empire based on simple, modern dresses. She met Prince Egon von Furstenberg when she was studying economics at the University of Geneva. They had two children. In 1970, Diane's jersey wrap dresses became a phenomenon and she was catapulted to the top of the fashion world. (Her designs and growing dominance landed her on the cover of Newsweek when she was just twenty-eight.) She took a hiatus from her company in the '80s, but a decade later she regained control of her eponymous label, infused it with renewed vigor, and expanded into accessories and cosmetics. In 2006, Diane was elected president of the Council of Fashion Designers of America. We were her dates to the 2008 Metropolitan Museum of Art Costume Institute Gala, and we codesigned our dresses with her. After a fitting, we sat down to talk about her life.