Impresario Quincy Jones is synonymous with pop music. As an artist, producer and collaborator, the man known simply as 'Q' has served more than 50 years as a creative force in music.
He's worked with legends like Frank Sinatra, Steven Spielberg and Oprah Winfrey. Jones crafted and cultivated the talent of a Gary, Ind., singer named Michael Jackson. In his new book, Jones takes a look at his life with help from a few famous friends, whose personal interviews, recollections and photographs paint an intimate picture of the living legend.
Read an excerpt of "The Complete Quincy Jones: My Journey & Passions: Photos, Letters, Memories & More from Q's Personal Collection" below and click here to check out more book excerpts in our library.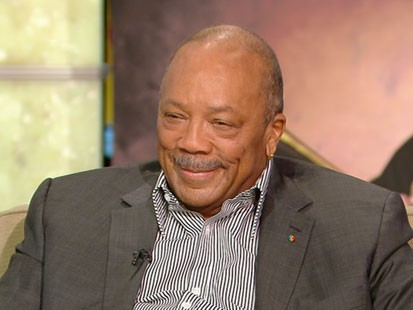 Excerpt
An American impresario, Quincy Jones's legend is best told not simply be telling the story but by showing the story with the rich visuals that illustrate the life of a great man. Like his music, The Complete Quincy Jones: My Journey & Passions is a beautiful arrangement filled with private reflections and snapshots of his early years and family album and how he followed his muse and, as he put it, "walked in the shoes of giants," such as Lionel Hampton, Count Basie, Dizzy Gillespie, Bumps Blackwell, Clark Terry, and his dear friend Ray Charles.
Deeply personal, this rare collection of photographs and memorabilia beautifully depicts a life lived large and one that has touch many others through his music and how he inspires as a role model.
Quincy Jones is the most successful Renaissance man in the history of American popular music. That's quite a boast, and not one that the modest man is likely to claim for himself should you get him in a corner. But look at the facts. Can he produce? Only the biggest selling album of all time, Michael Jackson's Thriller, not to mention the chart-busting single that got forty-six mega-stars in the same room at the same time, "We Are the World." Can he do anything else? Only compose, arrange, and play almost any instrument you can think of. Can he hang onstage and in the studio with the best of them? Dizzy Gillespie, Count Basie, Duke Ellington, Ray Charles, Frank Sinatra, Peggy Lee, Aretha Franklin, George Benson, Donna Summer—those are just a few of the legends he's worked intimately with over the last several decades.
You'd think that's enough to not only keep a man busy, but keep him from even finding enough time to sleep. But Quincy's never one to let the grass grow under his feet, at the age of twenty-five or seventy-five, eventually becoming a universally respected figure, whose reach extends to all walks of life. He's also somehow managed to find time to make hit solo records under his own name, and score dozens of hit movies and television shows. And he's not content to do nothing but music, either, also producing hit movies, TV shows, and world-uniting concerts; creating the foremost hip-hop magazine, Vibe; and entrepreneurial achievements such as owning and operating TV and radio stations, in addition to several major international humanitarian programs.
Alice Walker's novel The Color Purple is a cornerstone literary reflection of African-American culture, so when it was made into a film, it seemed only appropriate that Quincy was asked to do the score and be a co-producer. Movie production might not have been nearly as big a feature on his resume as record production, but once Quincy decides to do something, it's total immersion. For two years, "I shut myself off from everything to work on the movie. I sat in front of a blank screen, day after day, imagining what the film should look like. I wanted to experience every aspect of making a film."
The fellow he chose to direct the film came as a surprise, but Quincy's always shot for the top when it comes to choosing his collaborators. The honor went to Steven Spielberg, whom he'd met when Spielberg was directing E.T., a 1982 film almost as big in the world of cinema as Thriller was in pop music. Coming at a time when Quincy's work in music and other media was getting faster and more furious, Quincy also ended up producing the storybook LP for E.T., to which Michael Jackson contributed narration and a song.
When you make decisions that the people raising the bucks don't expect, you can in turn expect some squawking before you get your way, just as some people who'd taken some risks on Quincy's behalf met with some resistance before he could seize the opportunities he was given. "When we were trying to make Color Purple, everyone was saying, 'He is out of his mind, his first picture he's ever been involved in in his life, he's talking about Steven Spielberg, it doesn't work like that.' But [Steven and I] were friends. I believed he could do anything, and told him that. He says, 'I shouldn't be doing this black picture.' And I said, 'Yes, you should. You didn't have to go to Mars to do E.T. You didn't have any experience there.' We went up to Alice Walker's, and he was very concerned and nervous. One thing led to another; Alice told us about a lady up in San Francisco, Whoopi [Goldberg]," who ended up playing the lead role of Celie in the movie.
Quincy can take personal credit for the discovery of the woman who would play the important supporting role of Sofia, putting her on the road to a career that eventually found her recognized as one of the influential American celebrities bar none. "I was casting one of the most important things in my life, The Color Purple," he remembers now. "And in the middle of that, [CBS Records executive] Walter Yetnikoff said, 'You have to go out to Chicago and testify for Michael [Jackson] in a plagiarism case.' I couldn't sleep, and about quarter after nine, I turned on the TV set, and saw [the local talk show] AM Chicago. I saw this lady, and my soul jumped on fire. I said, 'She can act! She is Sofia. There's no doubt about it.' I didn't know her name; they didn't mention her name.
"I went through some of my friends and found out who she was; it was Oprah. And she was going to be the wife of Harpo. I never heard of anyone called Oprah and guess what—Oprah backwards spells Harpo. And I knew it was not only my decision, it was beyond me. "I sent a video back to Spielberg and Alice Walker. I have a video of Oprah, Whoopi, Danny Glover, and their screen tests. He gave them two lines apiece, and they had to improvise for forty minutes. That's the day they all got hired."
With everything he did behind the scenes to ensure The Color of Purple's success, people sometimes forget that Quincy also made a key contribution with his score for the picture. In fact, Quincy almost forgot to do it himself, as "I had so much to do that I almost completely forgot that we needed some music. Then I suddenly realized we needed to do an hour-and-54-minute score—in eight weeks. By the time we got down to 'Miss Celie's Blues,' which was a really strong dramatic moment, [co-writer] Rod Temperton—with whom I've been collaborating for more than twenty years—and I were running out of steam, and we had to record something the next day. So we called up Lionel Richie, who had offered earlier to finish up the lyrics if need be. And then it just flowed. It's funny, too, because Alice Walker said she didn't believe that men had written a song like that. I was also positive that we had to get [singer] Tata Vega and [blues harmonica player] Sonny Terry on it to convey the real feel."
The Color Purple is yet another milestone that wouldn't have come out the way it did if Quincy had taken no for an answer. He'd been told in no uncertain terms that "'Every idiot in town wants Steven Spielberg. He's a $5.5 million director.' Steven did it for $84,000. You can't have a $14 million budget and pay a director $5.5 million. They kept saying it would only do $30 million. It did $220 million." And as a Tony-winning Broadway musical, its status as an iconic tale of twentieth-century African-American life keeps growing. "It's a continuum," Quincy believes. "It's passed, I think, the human element. It's total divinity."
"The thing about Quincy is that he completely exudes and manifests love," Oprah Winfrey has observed. "Love in his work, love in his relationships, and love in all of his experiences. And so when you are listening to music that he has either created or is orchestrating or is conducting, or you are watching a film that he was a part of the production of, or you're reading a magazine that he was the publisher of, you can feel the love. That is the essence of all of the work that he does.
"I started a special journal when I went on The Color Purple. In my entire life, I've never wanted anything more than to be in that movie, and won't want anything that much any more, because I never want to have to desperately want something that badly again. He was the catalyst for that; he 'discovered' me. I wrote one day, 'I've never had this feeling before. Every time I see Quincy Jones, my whole countenance lights up. He is the light.' Being around him makes you feel like he is the light, mainly because there is not a person, not a crew member, not a janitor, not a photographer, not a person passing in the airport, that he doesn't treat as though they are the best friend in his life.
"There is no division in his heart about people whatsoever, and so no matter who you are, when you are around him you feel like you're the most special person to him. That is the first time I'd ever been around anybody like that, not to mention somebody who's famous, or has the reputation that he had.
"I don't know of anybody who has the kind of drive, passion, and love for the work that he does. I've never quite experienced anybody for whom whatever project they're undertaking, that there is 100% of the essence of him in it, no matter what the project is."
Quincy Jones knows that young people aren't only at risk in the inner cities of the United States: It's a global problem, not one confined to any one nation or any type of neighborhood. It's also a problem that governments haven't been able to solve, and one he takes seriously enough to have started the Quincy Jones Listen Up Foundation (now simply the Quincy Jones Foundation) in 1991 to "confront the state of emergency that currently threatens the world's youth." Its projects have ranged from "From South Central to South Africa," which sent five Los Angeles youths to build homes in South Africa, to developing a curriculum about black music in America for more than 100,000 classrooms. And it's not just about reaching out to gangs and students, but also starting a "Q Fellowship Program" for, in Quincy's words, giving "a future generation of African entrepreneurs and social innovators vital exposure to the private, public, and non-profit sectors that are at the forefront of the rapidly changing technological landscape. The 'Q Fellows' will in turn be able to apply that knowledge and use technology in their communities to develop lasting economic viability."
Quincy Jones has been especially active in South Africa, and its work there has enhanced the strong friendship between Quincy and Nelson Mandela, the great anti-apartheid leader and former president of the nation. "With Nelson Mandela, we go to his home for dinner, we visit the children with HIV and see them in debates about abstinence versus condoms and all that stuff," he says. "South Africa has been through it now. Last year they had 25,000 murders, 60 percent were women, and that's a country of 40 million people. I've seen what they've accomplished in those roughest times, you can't even imagine." As for Mandela himself, as Quincy notes in admiration, "I don't know what it takes to go through what he went through and not be angry, and violent, and destructive or resentful ... Maybe he's found the power of converting darkness into light." One of the Quincy Jones Foundation's most celebrated projects is one in which Quincy himself got to participate, helping prove it doesn't always take great numbers to make a great difference on both sides of the ocean. Nelson Mandela, Quincy explains, "asked me to co-host a visit to children with HIV in the Northwest Province [of South Africa] years ago. I had promised Mandela 100 homes that we would build wherever he said."
So in 2001, Quincy "decided to take five gang-bangers from the South Central [Los Angeles], and we called it 'South Central to South Africa.' We took them over there, girls, boys, Latin and black, hardcore, dopers and everything. And in ten days, 10,000 miles from home, they understood the spirit of Ubuntu, which is the spirit of South Africa, which means that the collective is always more important than the individual. To see this woman who had lived in a cardboard box with no water, electricity, all these years walk into her own home with a stove, electric lights and everything else—it doesn't get any better than that."
After just ten days in South Africa, these tough, seen-it-all kids from South Central got down on their knees and cried like babies when they met Nelson Mandela.
And it's a payoff, Quincy makes sure to note, that didn't end when the kids went back to LA, but will echo down the years and past his lifetime, as "the kids now, they're all in executive positions with organizations helping kids get out of trouble and stuff. It's the best reward in the world."
When he was on the board of Operation PUSH in the early 1970s, Quincy got one of his first chances to combine what's proven to be his biggest passions, music and social activism. With several other board members—including chairman Jerry Butler, Roberta Flack, Cannonball Adderley, Nat Adderley, Donny Hathaway, and Isaac Hayes—Quincy founded the Institute for Black American Music in the early 1970s. They didn't just take its mission into the classroom, holding seminars for local high schools; in the best tradition of putting your lessons into practice, he and his fellow Institute members also put on a show. Not any old show, but seven star-studded nights at the Chicago Amphitheater with Stevie Wonder, the Supremes, the Jackson Five, and Marvin Gaye; comedians Flip Wilson, Richard Pryor, Dick Gregory, and Bill Cosby; and even the cast of Sesame Street. The 1973 Duke Ellington special on CBS television that Quincy co-produced (and for which he conducted the orchestra) was also a project of the Institute, and Jones also co-founded the Black Arts Festival in Chicago.
Quincy's role in the Institute is just one more example of his longtime commitment to honoring the importance of African-American musical heritage and passing it on to new generations. If you don't keep your tradition alive, it's in danger of dying, whether passed on by speech, song, and deed back in Africa, or by classes, performances, or records in our modern age. "I would like more young people to see the whole thread, rather than get split up, because you see it's too costly to put a crown on James Brown's head, while his feet are in the blood of Duke Ellington," he said at the time. "It can't be cut off like that and it hurts me to see it. It shouldn't be the ego trip of who I am, but it should be, look who we are."
Along the same lines, he added a few years later, "The musicologists tried to deal with African music and its extensions in terms of the European art forms, whereas the African forms had nothing to do with that. African life was a total life force harnessed to the music. We didn't have writers, but we did have the music, and the music was the vehicle to carry the remnants of black history. The true history of blacks is not in our history books, but in the music. The only blacks I ever heard of in school were Booker T. Washington and George Washington Carver. It was like nobody else existed. We had no folk heroes in any books, ever. Our history is all locked in the music and is passed down in its different forms through that music."
Just as Quincy made the transition from jazz to soul, funk, and pop, so has he been at ease collaborating with the hip-hop generation—and not just musically, though he's done that as well on albums like 1990's Back on the Block. He's also been a mentor and role model for rappers on both musical and personal grounds, earning thumbs-ups from the likes of Melle Mel and Wyclef Jean. Ludacris sampled Quincy's "Soul Bossa Nova" on his 2005 single "Number One Spot," Jones even appearing in the video; Tupac sampled "Body Heat" for his biggest hit, "How Do You Want It"; and Kanye West sampled "P.Y.T." for his recent single "Good Life." Quincy is releasing a brand new hip-hop album with Akon, Wyclef, Snoop Dogg, Jamie Foxx, and a host of others. In addition, Quincy and Usher teamed with Habitat for Humanity in 2007 to promote ongoing relief efforts for the victims of Hurricane Katrina, later initiating a camp targeted toward getting Gulf Coast youth to complete a service project.
Rap has been an unofficial language of sorts for youngsters all over the English-speaking world for years now. But with the world shrinking more every day as songs travel instantaneously online and by satellite, Quincy also sees the possibilities rap offers for spreading positive messages on a global level. "I personally feel that the rappers could revolutionize education around the world," he says. "We've got the ear of every young person on the planet, and every country in the world has pushed their indigenous music aside to use our music, mainly black music, the Esperanto." Toward that end, in 1995 Quincy hosted a symposium of leading voices in rap music at New York's Peninsula hotel to exchange musical and social ideas. "If we come up with one thing, it'll be to realize that you can not afford to any longer be nonpolitical," he urged at the time. "It's great to talk about chillin' and everything else, but there's something more important. You have too much power to not be political. You have to say something. You have to talk about something. This is about talented people. But the content is real serious; it reaches the whole world." Also in attendance was future Secretary of State Colin Powell, who joked, "The real reason I'm here is that Quincy Jones ordered me to be here. And I take orders."
Revealed Quincy afterward, "I confiscated all videotapes and film to protect Colin Powell, who wound up staying for five hours instead of two. I didn't want anyone using photos or footage to damage him if he decided to run for the presidency, which he was contemplating at the time. Some of the younger rappers didn't even know who he was. When addressing some of the more confrontational comments from the floor, Powell maintained his South Bronx demeanor and authoritative cool throughout."
The idea of the summit, as Quincy observed a few years later, was "to get rappers in the hip-hop community to build their own coalition so they're not influenced by external forces, really. And they don't get blown away so young. It's unacceptable, and we've got to change whatever it is that's happening to cause it."
Was it a success? For Quincy and his family, there was a bitter aftermath, as "I had just begun to connect with Tupac Shakur, who was dating my daughter Kidada before he was gunned down in Las Vegas. Though we got off to a rocky start, as I came to know and feel him I saw his enormous potential and sensitivity as an artist and as a human being. I'll never forget that when he made an appointment to meet me at the Bel Air Hotel, he arrived promptly at ten, then left a message with the maître d' that he'd be back in a suit and tie. He wanted to greet me respectfully, not just as an artist and entrepreneur but as the father of the woman he loved. This is the side of Tupac that the media and his fans never saw, because of the mythology of the gangsta prose."
The deeper Quincy got involved in international humanitarian efforts, the more he came into close contact with several of the most powerful politicians of the late twentieth century. It's one thing to share studios with Frank Sinatra and Michael Jackson; it's a whole different ballgame to be ushered into the confidences of heads of state throughout the globe. These included not just Nelson Mandela and Colin Powell, but also Archbishop Desmond Tutu and French president Jacques Chirac. Not the least of his high-powered friends is Bill Clinton, at whose 1993 inaugural celebration Quincy served as executive producer, in which film footage of Martin Luther King, Jr., was followed with a live performance by rapper LL Cool J.
"I was very pleased when Bill mentioned how he dug the correlation between Dr. King's protest of the '50s and LL Cool's protest of the '90s," says Quincy Jones in retrospect. "It's the same cloth." He's also pleased not only "that the president understood it, but that 500,000 other people did. They jumped to their feet when he hit that stage. They leaped off the ground when LL came out after Dr. King. It fit so organically, it was like a glove." Quincy later was executive producer of An American Celebration, a televised 2000 millennium concert, for Clinton as well.
"I think Quincy understood that if were really going to be the first kind of modern president, it wouldn't be enough to be the first rock'n'roll president, because that was my childhood," is how Clinton himself reacted. "I had to be the first president of all those young people who were old enough to vote and were, among other things, into rap music."
As you'd guess, Quincy's also teamed up with other music-minded folks in his philanthropic efforts, and in recent years, Quincy's often worked alongside Bono, the two sharing a passion for using their music and celebrity for positive sociopolitical change. "Bono is my brother from another mother," says Quincy when recalling how the pair met. "Bono told me how he had been influenced by [British band] New Order, who was on my [Qwest] label, from Manchester. We sat and talked until daylight, just totally bonded like that, and have ever since. We go all over the world together. He brought his whole family to the Millennium [extravaganza] when I produced it, to just sing one number, the song 'One.' We are partners in crime; there's nobody like him."