Following on-air and online clues this week, "Good Morning America's" anchors today revealed details about the upcoming series "Living the Dream."
The series, which has taken the anchors to destinations around the country on their dream adventures, will air Monday to Friday on "GMA."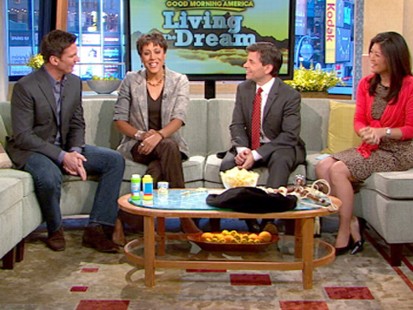 Juju Chang's Dream
Monday, May 3: For Juju Chang, baseball is not just a national pastime, it's a family obsession, especially when it involves the New York Yankees. Every year, she and her family attend spring training in Florida, but this year far surpassed all previous years and exceeded her family's wildest dreams. Chang, her husband and her sons attended the Yankees' spring training and practiced with Alex Rodriguez, the team's star third baseman. She got some much-needed pointers from A-Rod and also spoke to him about life's lessons from baseball.
Robin Roberts' Dream
Tuesday, May 4: Flying is in Robin Roberts' blood. Her father was a member of the Tuskegee Airmen, and growing up she always wanted to know what it was like to fly. She recently had the chance to find out with retired US Airways pilot Chesley "Sully" Sullenberger, the man who so famously and heroically landed Flight 1549 safely in the Hudson River. Roberts witnessed the miraculous landing from her home saying at the time, "It was just an amazing landing. … I still can't believe what I saw." Now, more than a year later, Roberts took to the skies in a Beechcraft King Air with Sully by her side.
'Living the Dream' on 'Good Morning America'
George Stephanopoulos' Dream
Wednesday, May 5: One thing you might not know about George Stephanopoulos is that he fancies himself a pretty good poker player. So how will he stack up against the pros at Harrah's Resort in Atlantic City? After receiving some pointers from Annie Duke, one of the world's top players, he takes on Duke, the legendary Phil Hellmuth Jr., who has won a record 11 World Series of Poker championships, Steven Begleiter and Jason Lee in the game of a lifetime. Ali Nejad provides the play-by-play commentary of George's dream game.
George will be living his dream, so stay tuned to see it.
Sam Champion's Dream
Thursday, May 6: As a child, Sam Champion wanted to be an oceanographer. So to have the chance to explore with Philippe Cousteau, grandson of Jacques Cousteau, was a life-long dream come true. Champion accompanied Cousteau to a manatee refuge area in Florida, where he saw first-hand the endangered and lovable sea cows -- and the efforts being taken to save them about 40 years after Cousteau's grandfather and father first documented their plight. The trip also marked Cousteau's first trip to the area since Jacques and Philippe Sr. filmed there so many years ago.
Bill Weir's Dream
Friday, May 7: Bill Weir grew up on a sky-diving drop zone where his father taught thrill-seekers how to throw themselves out of perfectly good airplanes. After an earth-bound decade, Weir's dream is to rediscover his family's adrenaline-fueled passion by leaping out of a variety of planes and a hot air balloon and flying through the Southern California sky with some of the sport's living legends.
"GMA" has been providing clues this week about the anchors' adventures on-air, on ABCNews.com and on "GMA's" Facebook fan page. The first viewer who correctly guessed each anchor's dream will be announced on the program and appear on the Times Square large-screen TV Monday through Friday.
The series concludes when one lucky "GMA" viewer will have his or her dream fulfilled on the broadcast May 27. "GMA" has been seeking submissions from viewers who also have a dream, and thousands have flooded ABCNews.com describing the scenario they would like to have fulfilled.
The top three submissions will be profiled on "GMA" May 10 and viewers can begin voting for their favorites on ABCNews.com.