Kathy Ireland, the third contestant to be voted off "Dancing With the Stars," said despite the early send-off she still feels "like a big winner.
"It's been such a blessing, the entire experience," Ireland told Chris Cuomo today on "Good Morning America." "I'm surprised that I was able to get on the dance floor in the first place. It was a miracle."
The former supermodel credited her dance partner Tony Dovolani for teaching her "grace and elegance."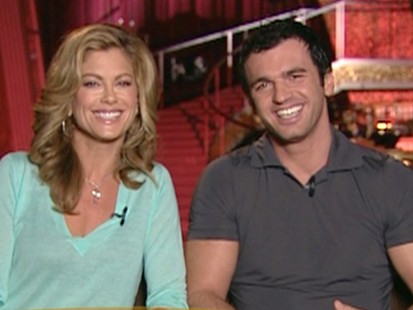 "Tony is a genius, the Fred Astaire of our generation," she said.
She also expressed gratitude to her supporters, including legendary actress Elizabeth Taylor, who posted on Twitter that she didn't believe the judges had been fair to Ireland.
Ireland has pledged to give her earnings from the show to various charities.
"That was one of the exciting things about participating … being able to support [charities]," she said. "Nonprofits are having a tough time."
Dovolani said that generosity was just one of the things he would miss about working with Ireland.
"I am so impressed by her, by the way she works, by the way she approaches everything in life," he said. "I kind of looked forward to going to work every day."
Ireland and Dovolani danced the quickstep to the song "Shall We Dance?" Monday night. The answer to that question from judges and viewers was "no," but Ireland was poised and gracious as she learned her fate.
"There is so much to take away from this experience, I wouldn't change a moment of it," Ireland said on the show. "The fact that I got to learn how to dance from world champion Tony Dovolani, it's been so much fun, the entire experience."
Click Here for more information about "Dancing With the Stars" from ABC.com.
Season Nine of 'Dancing With the Stars'
Ireland and former House Majority Leader Tom DeLay came in with the lowest scores on Monday's show. They each earned 18 points each from the judges, including musical director Baz Luhrmann, a guest judge for the night.
Singer Mya and Aaron Carter led the way with top marks on Monday night. Donny Osmond also turned in another strong performance.
Actor Ashley Hamilton and singer Macy Gray were the first dancers voted off season nine of "Dancing With the Stars" last week, at the conclusion of the three-night season premiere.
Carter and Osmond led the way among the male performances during week one, when all eyes were on DeLay.
"My biggest fear is I might embarrass myself," DeLay said during rehearsals.
He and partner Cheryl Burke -- a two-time "DWTS" champion who said she didn't know who DeLay was and had to Google him -- danced their first cha cha to the song "Wild Thing."
"I've got bigger critics than those judges," DeLay said after his performance.
This season boasted the largest "Dancing With the Stars" cast ever, with 16 celebrities vying for the Mirrorball Trophy.
The celebrities and partners practiced for a month at gyms and dance studios all around Los Angeles.
Osmond trained while doing his show in Las Vegas and Gray practiced every day while on her European tour.
"Sometimes we would practice at the show at one, two in the morning," she said.
"We practiced in hallways behind the stage, in conference rooms at the hotel," said her partner Jonathan Roberts.
Former Dallas Cowboy Michael Irvin was worried about what his appearance would do for his image.
"It took me years to build this tough man persona, and she wants me to lose it with a few hips and cha cha," Irvin said of partner Anna Demidova, who won the professional dance competition tryout and made her first appearance on the show this season.
Injuries are common during training for "Dancing With the Stars." Rycroft sustained one last season, and there were so many injuries that the show was forced to scale down on training time. This year, DeLay has already taken a hit, and he has the special shoes to prove it.
"They call it a prestress fracture," DeLay said of his injury. "They put me in these hiking boots. Aren't they cute?"
The day after he was announced as a contestant, DeLay told "Good Morning America" co-anchor Chris Cuomo that he "jumped at the chance" to appear on the show.
"I love dancing ... you've got to love dancing if you're from Texas," DeLay said. "Conservatives can have fun too. Conservatives can let their hair down ... and put on some dancing shoes."