When most people think of recycling, images of paper and trees might come to mind. But what about all those technological wonders that are just thrown out when an upgrade is due?
According to GreenDisk, a company that specializes in recycling so-called "technotrash," more than 90 percent of electronic gadgets are not recycled. But from computers to printers and cell phones to cables, many common electronic products and accessories are recyclable.
"As we move farther into the information age, the volume of obsolete computer equipment and supplies is becoming a serious problem and needs to be dealt with responsibly," according to a statement on GreenDisk.com.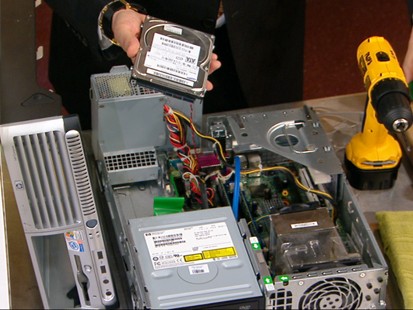 Beyond environmental reasons, owners should think about recycling technotrash because it can also protect their privacy.
"For each of the last five years, identity theft has been the fastest growing crime in America. Throwing technotrash in a landfill is just an invitation for trouble," according to GreenDisk.com.
How to Recycle
Services like GreenDisk.com will pick up and recycle, refurbish and reuse the items.
You can either fill up your own box or GreenDisk will send you a "techno trash can" that you can fill up and send back. If you take it to the USPS post office, the least expensive way to send it is Media Shipping.
For computers, GreenDisk can send the former owner a certificate of destruction to ensure that none of the personal information on the computer was leaked.
To wipe the hardware independently, PC users can find instructions at MonsterGuide.com.
To completely destroy the hard drive, owners should start by opening up the tower or look on the bottom of the laptop to locate the hard drive. Then gently pop it out.
The "Good Morning America" IT staff recommends that people keep the hard drive from computers they discard for six months to a year, just in case they realize they need something off it.
One way to actually destroy the hard drive is to put on some safety goggles, wrap the hard drive in a towel and smash it with a hammer. Make sure the interior disks are destroyed.
What Else Can Be Recycled
All forms of electronic media and their cases: diskettes, zip disks, CDs, DVDs, VHS cassettes.
Hard drives, zip and jazz drives, etc.
All printer cartridges, including inkjet and toner.
Cell phones, pagers, PDA cables, and headset accessories.
Rechargeable batteries and chargers.
MP3 players, iPods, digital cameras.
Cords, cables, boards, clips, etc.
Laptop computers.