Broadcast TV soon will undergo a long-awaited conversion to digital, and as the deadline nears, Americans are taking steps to make the switch.
Just one thing you can do for the environment: Make sure you're staying green when you go to digital.
If you have an older TV and don't have cable, you'll have to upgrade your set by either buying a new one or getting a converter box for the set you have. The Natural Resources Defense Council gave "Good Morning America" some great tips to make your change energy efficient.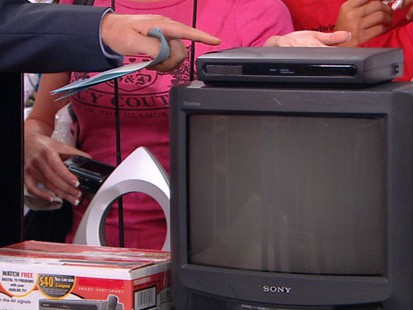 What You Need
If you have a TV manufactured before 1998, you'll probably need a converter box. It turns out that keeping your old set and using a converter box is not only the best way for the environment, it's also the easiest on your wallet.
Older TVs require far less energy than flat screen TVs. That's because today's TVs, with larger screens and higher definition, require more energy to run. A converter box costs about $40 -- you'll find them at electronics stores and big box stores -- plus you can get a government rebate of $20 by requesting a coupon at the Federal Communications Commision's Digital Television Web site.
Be an Energy Star
If you decide to buy a new TV, one way to go green is by looking for the "Energy Star" label. Energy Star is a program from the U.S. Environmental Protection Agency and the U.S. Department of Energy that aims to protect the environment through energy efficient products while saving consumers money. The Energy Star label means a TV is up to 30 percent more efficient than those without the marker.
You can continue to slash your energy use when you get the new TV home. By reducing your TV's brightness setting, it could save you between 10 and 30 percent on energy use.
LED the Way
Finally, think about buying an LED rather than a plasma or LCD screen TV. Just like LED Christmas lights, LED screen TVs use up to 40 percent less energy, plus they are mercury- and lead-free and generate light, but no heat -- which means you won't have to pay more to cool down the room.
A 40-inch LED screen TV retails for about $2,500. A similar LCD TV would cost about $500 less -- money that experts say you would make up in energy savings in five years.
While Samsung and Sony are the only companies making LED TVs right now, more are expected to be on the market soon, which will drive down the cost.
For more information on the transition to digital TV, click on the links below.
The Natural Resources Defense Council
U.S. Environmental Protection Agency