What do you get when you combine more than 7,000 shrimp and 1,200 bottles of champagne? A party fit for an Oscar winner!
The Governor's Ball is Hollywood's biggest bash of the year and the first on every celebrity's party list come Oscar night. Chef Wolfgang Puck is once again putting together a feast for all those famous partygoers.
You can get a taste of two dishes that will be served at the Governor's Ball. Find the recipe for Spring Vegetable Risotto below.
Click here for Puck's Slow-Braised Kobe Short Ribs recipe.
Click here for more recipes featured on "GMA."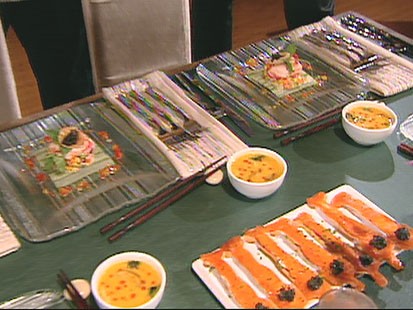 SPRING VEGETABLE RISOTTO
Yield: Serves 4
Ingredients:
1 pound pencil asparagus, trimmed

4 ounces organic spinach, washed, dried, stemmed, blanched, liquid squeezed out

6 tablespoons (3/4 stick) unsalted butter

4 tablespoons extra-virgin olive oil

Kosher salt and freshly ground white pepper

1 tablespoon minced garlic

1 tablespoon minced shallots

3/4 cup Arborio rice

1/3 cup dry white wine

2-1/2 to 3 cups organic chicken stock, hot

1/2 cup freshly grated Parmesan cheese

Fried julienne of leeks, optional
Directions:
Cut off 3-inch asparagus tips and reserve. Chop the remaining stalks, blanch, drain well, and transfer to a blender. Add the spinach and process to a puree. Pass through a fine-mesh strainer. Reserve. Blanch the asparagus tips, drain, and sauté in 1 tablespoon each of the butter and olive oil. Season with salt and pepper. Reserve.
In a medium saucepan, heat 3 tablespoons each of the butter and olive oil. Add the garlic and shallots and sauté until soft. Do not brown.
Add the rice and sauté until well coated with the oil.
Deglaze with the wine and reduce until almost dry.
Using a 4-ounce ladle, add one ladle of stock to the rice. Stir the rice over medium heat until the stock is absorbed and the rice is almost dry.
Add another ladle of stock and repeat the procedure until you have added a total of 2-1/2 cups of stock, or just until the rice is tender but still firm.
Stir in the reserved vegetable puree.
Remove from the heat and stir in the remaining 2 tablespoons of butter and the Parmesan cheese. Continue to add stock to the desired consistency. It should be moist and creamy but not runny. Season with salt and pepper.
Divide among 4 heated serving plates and garnish with sautéed asparagus tips and fried julienne of leeks, if desired. Serve immediately.
Recipe courtesy of Wolfgang Puck