He was the handsome, charming Italian "Top Chef" contestant "fresh out of the boat," as he put it, who didn't take home top honors but did capture viewers' hearts.
Fabio Viviani was recently voted the "fan favorite" of the popular Bravo TV reality show and took home $10,000.
From Florence, Italy, Viviani, 31, is owner and executive chef of Café Firenze Italian Restaurant and Martini Bar, in Ventura County, Calif., that was already busy and well-regarded, but Viviani has seen his own and his restaurant's popularity explode.
Viviani was in a tight competition for fan favorite with the wacky, spiritual and hilarious chef Carla Hall, who was among the Top 3 finalists. In fact, Viviani said in an interview with Bravo that he voted for Hall as fan favorite 20 times.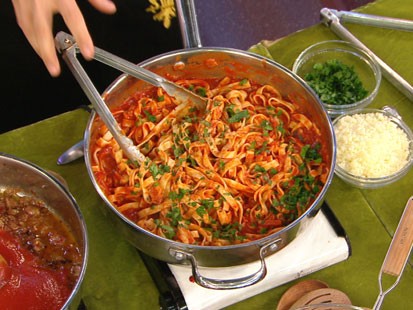 It was that kind of good nature and broken-English witticisms that put Viviani over the top as fan favorite. Perhaps his most memorable moment was during a challenge in which he broke his finger while cooking. Asked whether he wanted to go to hospital, Viviani said he'd rather chop off his finger, sear it on the hot grill and deal with it tomorrow than not finish the challenge.
Viviani has also set up a web site with resources and recipes to raise healthy kids. Visit www.kidshealthcafe.com for more information.
Two of Viviani's recipes from Café Firenze are below.
Fettuccine Amatriciana
Makes 2 servings
8 oz. fresh fettuccine

½ stick butter

¼ lb. pancetta, diced

1 small red onion, diced

1 tsp. red chili flakes

2 garlic cloves, minced

1 cup dry white wine

2 cups tomato sauce

Salt & pepper

½ cup chopped fresh parsley

½ cup grated Parmesan or Romano cheese
Directions:
Prepare a large pot of boiling, salted water for pasta and cook according to instructions.
Melt butter in a large heavy-bottomed skillet. Add pancetta, onion, chili flake to melted butter. Saute until pancetta is crisp on medium-high heat, about 6 to 10 minutes. Add garlic and sauté for 2 minutes.
Add wine and use a wooden spoon to scrape up any brown bits. Add tomato sauce. Season with salt and pepper, to taste. Stir in chopped parsley and cooked pasta. Toss with cheese, and serve!
*Recipe courtesy of Chef Fabio Viviani, owner & executive chef of Café Firenze in Moorpark, Calif.
Chicken Piccata With Prosciutto and Artichoke
Makes 2 servings
2 boneless, skinless chicken breast halves

1 stick of butter, divided in half

4 slices of prosciutto, sliced thinly

4 leaves of fresh sage

1 small jar/can of marinated artichokes, drained (you will need about a handful of them)

1 cup of dry white wine


Salt & pepper

Olive oil
Directions:
Place each chicken breast half between two sheets of plastic wrap, and pound until about a ¼ of an inch thin. Season with salt and pepper. On each seasoned and pounded chicken breast, place 2 sage leaves, then top with 2 slices of prosciutto, so that you have the sage sandwiched between the chicken and the prosciutto.
Melt half a stick of butter in a large skillet over medium-high heat. Add the chicken to the pan with prosciutto and sage-side down. Let cook for about 3 to 4 minutes; until the edges of the chicken turn white. Turn chicken over and cook on other side for an additional 3 to 4 minutes (with prosciutto facing up). Add artichokes and wine. Simmer this until the wine has reduced by half, you will see it became thicker. Place chicken on a platter, and finish the pan sauce by whisking in the rest of the butter.
*Recipe courtesy of Chef Fabio Viviani, owner & executive chef of Café Firenze in Moorpark, Calif.
Roasted Tomato and Buffalo Mozzarella Salad With Pesto Makes 3 Servings
For the salad:
6 Roma tomatoes

Olive oil

2 garlic gloves, minced

Salt & pepper to taste

2 6 oz balls buffalo mozzarella, in ¾-inch slices

Approx 10 leaves of fresh basil
Directions:
Preheat oven to 425°F.
Cut the 6 Roma tomatoes in half lengthwise and place cut-side up on a rimmed baking sheet. Drizzle liberally with olive oil, minced garlic, and salt and pepper to taste. Roast in the oven at 425°F for about 25 minutes.
To assemble the salad: Place the tomato and the mozzarella in a tower with a basil leaf between each layer. Season every layer with the salt and pepper and a drizzle of olive oil.
For the Pesto:
1 lb. fresh basil, rinsed and patted dry

1 1/2 cups extra virgin olive oil

1 cup of pine nuts

2 cloves of garlic

3 oz. Parmesan cheese, grated

Salt & pepper to taste
Combine all ingredients in a food processor and blend. Drizzle over salad. Add more basil and some shaved Parmesan for garnish, if desired.
*Recipe courtesy of Chef Fabio Viviani, owner & executive chef of Café Firenze in Moorpark, Calif.