Up to 1,500 California home owners in some wealthy seaside neighborhoods have been ordered to evacuate ahead of a wildfires that tore across regions just north of Los Angeles.
But as fires were heating up on the west coast, back east Tropical Storm Danny was cooling down, prompting the the National Weather Service to say that Danny is now "barely a tropical storm."
More than 1,000 firefighters scrambled to help control the blaze in the seaside community of Rancho Palos Verdes, Calif., and firefighting helicopters dumped hundreds of gallons of water on the blaze.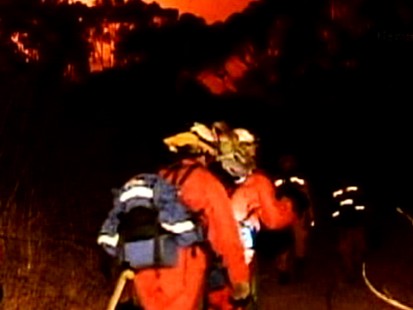 Fire Inspector Frederic Stowers told the Associated Press
an unknown number of structures had been damaged, including several multi-million dollar homes that are thought to have been destroyed.
For firefighters it's an uphill battle to control the blaze. One fire in the San Gabriel Mountains burned across more than 2,000 acres of steep grassland before it was 60 percent contained, according to the AP.
Capt. Jim Wilkins of the U.S. Forest Service told the AP the area is so steep "it's almost impossible to the point where you need ropes."
Fire crews there and elsewhere are also contending with temperatures rising toward 100 degrees and humidity levels dropping to dangerously dry levels.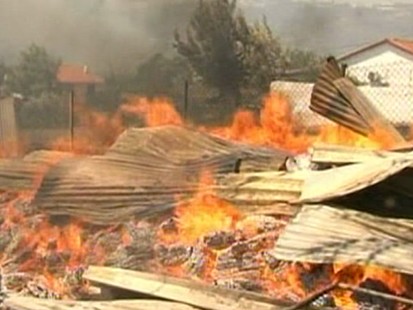 The National Weather Service issued a
special statement to the Los Angeles area
warning that the hot, dry weather is expected to continue until Saturday "with widespread triple digit high temperatures expected."
Danny Downsized, But 'Complacency' a Big Problem
While the weather and fire made a dangerous combination in California, the threat from Danny eased back east.
The National Weather Service referred to Danny as "barely a tropical storm" in a morning advisory, but also said the storm is churning up powerful swells and "life-threatening" rip currents along the east coast.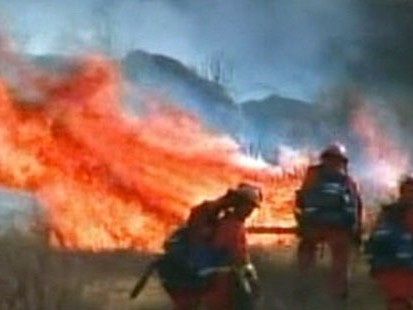 Waves, Rip Currents From Danny Still a Threat
Sustained winds have decreased to near 40 miles per hour, the advisory said, though there is a "small opportunity for slight restrengthening today."
NASA photos of the storm show a disorganized system which makes predicting landfall difficult, Bill Read of the National Hurricane Center told "Good Morning America."
"Our initial concern of course will be the outer banks of eastern North Carolina where they jut out in the Atlantic," Read said. "At a minimum they'll see the high seas, rip currents or beach erosion."
High seas caused by Hurricane Bill earlier this week swept three bystanders out to sea, killing a 7-year-old girl.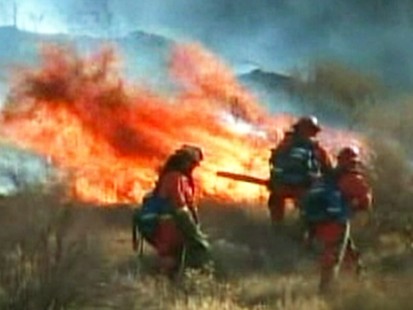 "People tend to underestimate the power of water," Deputy Director of the Eastern Regional National Weather Service Mickey Brown said. "Complacency is a big problem because people tend to think that that can't happen to me, so they don't prepare properly. Then they underestimate the power of the storm and unfortunately sometimes get trapped."
At least 11 states are closely following Danny's progress and heavy rainfall is expected in New England as moisture from Danny combines with another system moving in from the Great Lakes.
That news prompted President Obama to leave Martha's Vineyard for Sen. Ted Kennedy's memorial services in Boston today, a day earlier than originally planned.
The Associated Press contributed to this report.