The final months of the year not only usher in the holidays and a bustling shopping season but also some of the year's coldest weather.
Many adults and children across the country struggle during the winter months because they are unable to afford proper cold-weather attire. With so many people struggling financial because of the recession, your coat and clothing donations matter this year more than ever.
"Good Morning America," together with retailer Burlington Coat Factory and the nonprofit organization One Warm Coat, once again want to help those in need with its 2nd Annual Warm Coats and Warm Hearts Drive, which kicked off Monday, Nov. 24.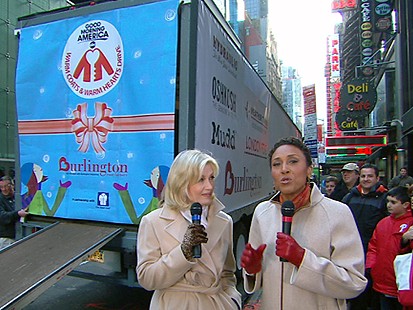 Last year we exceeded our expectations by collecting 175,125 coats that were distributed free of charge to those in need. This year we'd like to spread the warmth even farther and wider.
Donations are accepted through Jan. 16 at more than 400 Burlington Coat Factory stores across the country, as well as outside "Good Morning America's" Times Square studio location. Click here to find a Burlington Coat Factory near you.
Your donated coats don't have to be brand new; gently used coats welcome.
Other types of outwear are acceptable and appreciated, like sweaters, jackets and sweatshirts. Even hats or gloves could help someone stay warm this season.
In the coming weeks, donated coats will be distributed to people in need at no cost.