Halfway through my walk down the aisle, I stopped trying to take in the faces of all of my friends and family in attendance and looked up at my husband-to-be standing on the altar, smiling at me. And that's when I started to tear up. It was the first time on my wedding day, and not the last.
After a year of preparations and 30 days of advice from wedding planner Mindy Weiss, my Big Day was all that I ever could have imagined, and more.
Mindy and many others told me that the wedding would fly by, but I didn't really know what they meant until I experienced it.
My memories of the day are a blur of hugs and kisses, sunshine and smiles, green grass and blue skies, photos and flowers and dancing and drinking champagne. But there are a few moments that stick out in my mind after two weeks and one lovely honeymoon to reflect. I've also included a few photos from our amazing photographer, Perry Heller (click here for more info).
I remember waking up at 6 a.m. on the wedding day like a child on Christmas morning, too excited to sleep.
I remember the makeup artist doing my sister's makeup, looking at my makeup and hair for the first time and proclaiming, "Holy s***, look at the bride!" It was actually a very good confidence-builder.
I remember posing for photos outside before the ceremony, oblivious to a minor crisis at the church because the printer had assembled some of the programs out of order. Thankfully no one told me about that until the next day.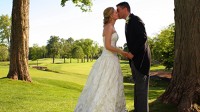 A. Perry Heller Photography
I remember waiting while everyone else walked down the aisle and the gasps when the church choir and trumpet launched into Trumpet Voluntary, the doors opened, and I entered on my dad's arm.
I remember Mark squeezing my hand during the priest's homily, when he said he knew the first time he met us that we would be asking him about getting married, because we were so obviously in love.
I remember our reception entrance to "Start Me Up," the first dance to "Baby I Love Your Way" and the last dance to, yes, "Don't Stop Believing."
I remember telling Mark that this was the best day of my life, and my father saying in his welcome speech that it was also one of the best days of my parents' lives.
I remember the best man's toast, which was touching, funny, concise…perfect. Mindy would have been proud.
I remember the flower girl twirling in her dress and dancing in her pajamas.
I remember eating bananas before the wedding because I was afraid anything else would mess up my makeup or spill on my dress, wishing I'd eaten some of the amazing appetizers we chose during the cocktail hour, and enjoying every bite of the wedding cake at the reception.
I remember taking off my shoes at the end of the night and dancing like crazy.
I remember my face hurting from smiling so much.
I remember wishing the night would never end, and wishing we could do it all again.
I've always been a big fan of quotes, and we included two in our wedding program that really said what our wedding was about.

"Since love grows within you, so beauty grows. For love is the beauty of the soul." – Saint Augustine
"May all thy joys be as the month of May, and all thy days be as a marriage day." – Francis Quarles
Our wedding day was full of love, beauty, heart, soul, and joy. May we be lucky enough to have more days like that in the years to come.
I can't believe it's over, but then I remind myself that it's really only just beginning.