On May 15, 2009, I came home from work on what had been an unremarkable Friday, and my boyfriend asked me to marry him.
Tomorrow, on May 15, 2010, we're getting married.
Like most of life's significant moments, the Big Day is really the culmination of thousands of small choices and chance events.
In the last year, my fiance and I have tasted cakes and sampled champagnes, trekked to Pre-Cana and to Michael C. Fina, and chosen wedding bands (rings) and a wedding band (music). I've learned about aisle runners, altar flowers, favors, fondant, morning coats, marriage licenses, table cards and tablescapes.
When discussing the hymns and readings for our wedding ceremony, the musical director at my church told me he was glad that we had put so much thought and planning into the religious part of the day. I think what he was getting at is the fact that it's easy to get wrapped up in preparations for the party and forget that the day is really about the couple and the commitment.
In addition to everything involved in planning our wedding day and our new life, in the last year my fiance and I have faced challenges and come together in a way that makes me confident we're ready for the commitment of marriage and all that goes with it.
It's the big commitment that makes it The Big Day. And when that day comes, wedding planner Mindy Weiss says it's important to "stay in the moment" and remember that "once you say 'I Do,' an entire new chapter begins."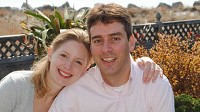 "When I see the bride in the morning I always remind them to 'Let Go,' because in just hours it is over," said Weiss.
"If issues arise, hopefully you have assigned someone to handle them -- someone calm and sensible!" she said. "You are the center of the energy. If you are uptight it will spread like wildfire. Your calmness will allow everyone to stay that way around you. Keep your sense of humor, and play some fantastic music while getting dressed."
For most brides, Mindy said, the best part of the wedding day is when she sees her husband-to-be's face when he sees her for the first time. Make sure not to rush up the aisle and miss that moment.
And once the stress of the day fades away, Mindy says she often sees couples finally enjoying the beginning of their happily ever after.
"Late in the evening when it's mostly friends left, they throw off their shoes and dance the rest of the night away."
Now that's something to look forward to.
In the last 30 days, Mindy has answered countless questions for me about all things weddings. Her advice has been invaluable, and it's clear that she really loves helping brides (and grooms) have the big day that's right for them.
If you want Mindy's help for your own wedding, you can find thousands of answers in her book, "The Wedding Book." She also has a new iPhone application available in the Apple App Store, starting May 25, called "Plan Your Wedding with Mindy Weiss."
Unfortunately, the app wasn't available in time for my wedding, but it will feature an organizational tool and will guide brides through everything they need to know from the engagement through honeymoon and offer live updates, tips and videos from Mindy.
It sounds like having Mindy there for you, planning your own wedding, and almost makes me want to do it all again.
Just kidding, honey.
Sort of.
How long until we can renew our vows?
The 30-Day Wedding Countdown

Day 30: What's the proper invitation response etiquette? CLICK HERE to find out.