The U.S. military reportedly halted flights carrying Haitian earthquake victims to the United States, allegedly because of a dispute over payment and where seriously injured patients should be taken for treatment.
The apparent halt came one day after Florida Gov. Charlie Crist wrote a letter to U.S. Health and Human Services Secretary Kathleen Sebelius, warning, "Florida's health care system is quickly reaching saturation, especially in the area of high level trauma care."
But officials in Crist's office said they didn't know of any Florida hospitals turning away patients. He asked Sebelius to activate the National Disaster Medical System, which is typically used in domestic disasters and pays for victims' care.
"Good Morning America Weekend" anchor Kate Snow spoke with Gov. Charlie Crist by phone from Miami.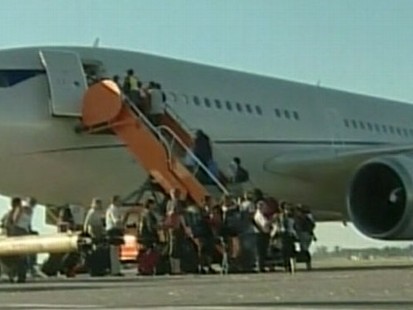 Kate Snow:
Good morning, governor.
Florida Gov. Charlie Crist: Thank you, Kate. Great to be with you.
Snow: Thank you for being here so early. Help us understand what has happened here. Our understanding is that military flights were called off. Civilian flights can still happen airlifting patients out, but the military has put a stop to this. Is that your understanding?
Crist: That is not our understanding. In fact, we've had flights that have continued into Florida over the past 19 days. Kate, we've about 18,000 repatriations to Florida. Three hundred of those were orphans. Sixty to 80 orphans came in Friday night at Miami International. Seven hundred repatriations in the last 24 hours alone. But Florida has helped over 526 people, 171 are still in care in our hospitals.
Snow: But military flights, just to be clear, governor, are still landing in Florida to go to hospitals there?
Crist: That's our understanding. We have put no hold on any military. I mean, I'm commander in chief of the Florida National Guard, but I don't have authority to stop any military flights, nor would we want to. So we welcome all Haitians with open arms, in Sanford, right outside of Orlando, in Miami at Miami International and at Homestead base here in South Florida. So, it's all hands on deck here in the Sunshine State. We're welcoming Haitians with open arms and probably done more than any other state and happy to continue to do so.
Snow: You did write a letter, I have it right here in my hand, to the secretary of Health and Human Services on Wednesday, saying that Florida's health care system is quickly reaching saturation. And you asked how are we all going to pay for all this. You seemed to be saying the federal government needs to step in and help out. Do you worry your letter might have had something to do with this confusion?
Crist: Well, someone may have misinterpreted it. I think that's probably what actually did occur. That's unfortunate, but Florida's very-- The challenge of the finances here. The first couple days, Kate, it was about $1.7 million. That accelerated to over $7.1 million after about a week. The price tab continues to go up. But that pales in comparison to the human loss. We're bearing that. We're happy to do so. If our federal friends can help us, and they indicated they could, Secretary Sebelius and Secretary Napolitano, so I'm encouraged by that. We will continue to accept Haitians and the repatriations. The Floridians are a compassionate people, and our arms are open all the time.
Snow: I don't think anyone doubts that, governor, but when you hear the doctors talking to David Wright on the ground in Haiti saying there's a five-year-old there with tetanus who's going to die if she doesn't get airlifted out -- of tetanus, of all things -- I mean, is it unconscionable to you that more people aren't getting out?
Crist: It's completely unconscionable. When we've had 700 fly in just yesterday alone, they ought to put that poor girl on the plane.
Snow: OK. So what's next step to fix? If there is a miscommunication here, who are you talking to? The White House?
Crist: Yes. We've been in communication with the White House, with the secretary at HHS, as well as the secretary of Homeland Security. And we have flights continuing to come in, so we don't know why different stories are being reported.
Snow: And just one last question. Should the State Department get involved in changing its immigration policies because there's something called humanitarian parole that Haitians have to get to come here for medical reasons. Does that policy need to change, sir?
Crist: Well, I think what needs to happen is whatever action needs to occur in order to continue to have those in need get the help they need. That's very fundamental and very straightforward. And I can tell you, from a Florida perspective, that's exactly what we're doing. And happy to do it, happy to do it.
Snow: Gov. Charlie Crist, thanks so much for your time this morning.