The fireworks show that lit up the night sky over New Providence, N.J., Friday night nearly didn't happen.
The cash-squeezed town of 12,000 couldn't afford the $12,000 pyrotechnics bill, so its July 4th celebration was cancelled.
That was until two weeks ago, when a local bank stepped in, wrote a check and bailed the town out.
"I said, here's our neighbor in trouble, having a little financial difficulty," said Kevin Cummings, president and CEO of Investors Savings Bank.
"It's a great opportunity, the Fourth of July celebration, it gets our name out there in the marketplace but, more importantly, it's us serving the community," he said.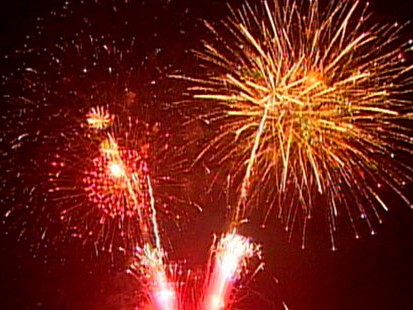 Indeed, dozens of other small towns across the country from those in Washington state to Pennsylvania are scaling back, charging admission or cancelling their displays entirely because of shrinking budgets and plummeting tax revenues.
This year, fireworks are just too frivolous.
So New Providence Mayor John Thoms was grateful for the sponsorship and the role reversal.
"You read in the paper about governments bailing out companies and in this case a bank bailed out a municipality," he said.
New Providence staged its fireworks display Friday instead of tonight to keep costs lower.
Others were less fortunate. City leaders in Rahway, N.J., cancelled their show because the $45,000 tag was enough to pay the salary of one of the eight city workers they just laid off.
"It's not easy to bring someone in in the morning and tell them their job is going to be eliminated and then say, 'Gee, enjoy the fireworks tonight,'" said Peter Pelissier, Rahway city business administrator.
For families, this summertime staple has always been cheap entertainment, but not for small town budgets. Fireworks shows can cost up to $50,000 in addition to overtime for police, firefighters, and paramedics.
Some towns are already looking ahead, hoping to salvage next year's Independence Day display by pooling money with neighboring towns, so everyone gets more bang for their bucks.