For more than a century, Lady Liberty has watched over New York Harbor. The seven sharp spikes on her crown represent the seven continents and seas. Her torch is a symbol of enlightenment. She's the green lady recognized around the world.
Today, her crown once again opens to the public. Visits to the crown and pedestal were suspended after Sept. 11, 2001, as a security precaution. The pedestal reopened to visitors in 2004.
Interior Secretary Ken Salazar announced the crown would reopen in a May press conference. "We cannot eliminate all the risk of climbing to the crown, but we are taking steps to make it safer," he said.
Security improvements include additional rangers stationed throughout the statue itself, new handrails and a trained medical technician on site.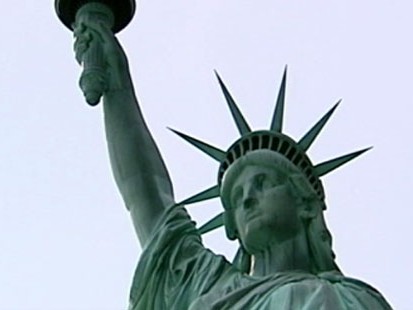 Already a symbol of hope and strength, many visitors see the reopening of the crown as a symbol of America's resiliency.
"I think it had to happen. [Sept. 11] was a terrible tragedy, but getting this reopened shows our experience and rejuvenation," said tourist Steve Sardinia Jr., who was visiting from Long Island, N.Y.. "I think it shows the ability of America to come back."
View From the Top
Visitors can climb 354 steps from the ground level in the pedestal lobby to the observation deck in the crown. Two narrow, intertwining staircases in a double-helix design are the paths up and down.
As part of the improved security, visitors will only ascend to the crown in groups of 10, accompanied by a National Park Service ranger. Tours will be limited to three per hour, and everyone will be allowed up to 15 minutes at the observation desk.
Along the way to the top, visitors see the scaffolding skeleton designed by Gustave Eiffel. Tiny points of sunlight stream through the areas where Lady Liberty's copper skin has been pierced.
And just 162 steps after the top of the pedestal, visitors are at the main attraction. Twenty-five windows look out onto New York harbor. The statue faces southeast, in the direction of France, to welcome ships as they sail into New York. From the smallest windows, visitors can read the tablet from a higher angle and see the bottom of the torch.
Inside the observation deck, the temperature can be up to 20 degrees hotter. There is no air conditioning, and visitors daring enough to touch the low copper ceiling may be surprised at how hot the metal gets.
The Statue of Liberty will remain open for the next two years before closing again for additional safetey maintenence.
Tickets to the Statue of Liberty's crown can be purchased at www.statuecruises.com. Crown tickets are $3 and are reservable on a first-come, first-served basis. Ferry passage is $12 for adults, $10 for seniors and $5 for children ages 4-12. For more information about the Statue of Liberty, visit www.nps.gov/stli.