A former girlfriend of the lab technician accused of killing Yale graduate student Annie Le said today that she, too, feared Raymond Clark and was relieved when their relationship ended several years ago.
"This is going to bring back everything I went through six years ago," Jessica Del Rocco told "Good Morning America" in what she said would be her only interview on the subject of Raymond Clark. "He would get very angry often. He would frighten me. He would get physical."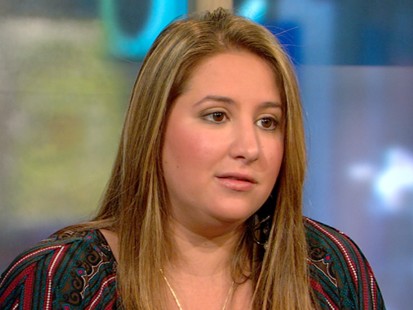 Del Rocco was 16 years old when she and
Raymond Clark
dated. She backed the widely held belief among the people who knew Clark that he was a contradictory personality -- outgoing and well-liked but also dark and controlling.
In the beginning of the relationship, Del Rocco said Clark seemed to be the perfect boyfriend.
"He was very popular. He was, you know, a very nice guy. Everybody loved him. He was a good student. He was a great baseball player," she said. "He was perfect -- he was charming, he was sweet, took me out.
"About three months into everything he started to get a little controlling," she said, adding that he began dictating what she wore and how she spoke. "It's, 'Don't go here and don't be friends with these boys, and these girls are OK. You're talking too much or you're not talking loud enough.'"
In the end, she said, it caused such a big fight "it wasn't even worth it."
As the relationship progressed, so did his control, Del Rocco said, saying that if things weren't going his way, "he'd make them go his way."
"There were times he did frighten me," she said, saying that sometimes things got physical, which she said the police have asked her not to talk about. "He'd get this little look in his eye. Sometimes it was better to do what he said just to avoid the fight."
Clark Charged With Le's Murder
The body of Yale pharmacology student Annie Le was found Sept. 13, shoved into a wall in the basement of the on-campus laboratory where she worked. The discovery was made on the day Le was supposed to have been married.
Clark was arrested last Thursday and ordered held on $3 million bail. He was sent to a maximum security prison to await trial. He is next due in court Oct. 6.
"My heart goes out to the Le family," Del Rocco said. "I feel terrible."
Del Rocco said she wanted to warn other girls who may find themselves in a similar situation.
"If you're in a relationship where there's somebody that's trying to control your every move... that's just a starting point for things to escalate into things much more worse," she said. "If any girl feels uncomfortable in a relationship that they're in, I know how hard it is, they need to dig deep ... take a stand and realize you don't deserve to be treated like that. You deserve to be treated better."
Ex-Girlfriend on Clark: 'He'd Just Fly Off the Handle'
Del Rocco said that once she realized she wanted out of her emotionally abusive relationship with Clark, she had to get the police involved. She wouldn't talk about exactly what happened but said she had to go through both school officials and the police.
"For about two weeks, I was escorted from the school to my car, and then it just died down," she said. "He started dating somebody new. I started dating somebody new."
Del Rocco, who said she didn't tell her mother about the abuse until after it was over, warned other women about entering or staying in relationships where there's escalating control issues. Clark, she said, later tried to make amends.
"He apologized forever, you know, emotionally hurting me in any way," she said. "He said he always had good intentions. He'd just fly off the handle."
Del Rocco said she hasn't even spoken to Clark in "five or six years," but now that he's been accused of strangling Le, Del Rocco said she's being "stalked" by the media and others wanting to find out more about him.
"Whatever happened between Raymond and I was six years ago," she said. "I have absolutely nothing to do with this."
Del Rocco wasn't the only one to speak about the apparent two sides to Clark's personality in the days after his arrest.
The Two Sides of Raymond Clark
His high school friends remembered him as a competitive baseball player who respected authority, volunteered to help the homeless and raised money for cancer-stricken patients. He was also a member of the Asian Awareness Club.
Ryan Santoro, who said he's known Clark since they were both 12 and played on a Little League baseball team together in Branford, Conn., explained he never thought of Clark as someone who would be involved in a homicide case.
"I never would have thought that he would have done anything like this," said Santoro, who played alongside Clark for five years. "Most of the guys we played with are pretty shocked" at the accusations against Clark.
Santoro described Clark as a "pretty good ballplayer" who had a competitive streak.
"He cared about winning," said Santoro. "He wouldn't have played if he didn't."
Asked whether he recalled Clark's having a short fuse on the field or off, Santoro said "no."
"He was a pretty nice kid," said Santoro. "He was very good with people who were older. He respected authority."
Kelly Godfrey, 23, has known Clark since elementary school and said that the last time they spoke was about eight months ago when they exchanged MySpace messages.
"Ray was just the nicest kid," said Godfrey. "He wasn't judgmental. He was really quiet, but he was very friendly."
"He was easily one of the nicest guys in our class. This is really a shock," Godfrey said.
Stephen Melcher also played baseball with Clark in elementary school and said that he, too, is shocked at the allegations against his onetime teammate.
"He was a good kid growing up, I never would have expected this from him" said Melcher. "I'm in utter, total shock and disbelief."
Melcher described Clark as "popular" and an avid Mets baseball fan.
But according to reports, Branford authorities investigated Clark in 2003 after a girlfriend claimed she had been forced to have sex with him and feared what Clark might do if she broke up with him.
And at Yale Clark was described as "quiet" by those who knew him at the lab where he'd worked since 2004.
Colleen Murphy, who saw Clark at the Yale lab, told the Yale Daily News, "When I would see him walking through the halls, he would look at the ground, wouldn't really look at anyone."
Another fellow researcher who was not named told The New York Times that Clark's work habits were "very officious and very demanding."
ABCNews.com's Emily Friedman contributed to this story.