Brook Mueller may want a chance to work things out with husband Charlie Sheen in the wake of her claims that he threatened her with a switchblade, but experts say the seriousness of her accusations may get prosecutors involved even without her cooperation.
Lawyers for the Hollywood couple have asked a judge to throw out a restraining order imposed shortly after Sheen was arrested on domestic violence charges Christmas Day, so that they can work on their relationship.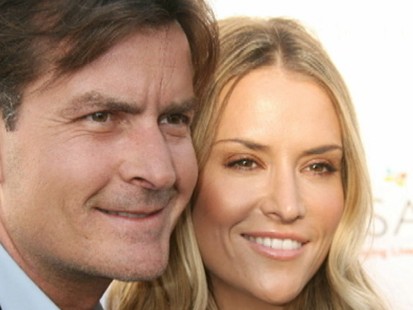 The restraining order, common in Colorado domestic violence cases, prevented Sheen from having contact with Mueller, possessing weapons or using drugs and alcohol.
But even if Mueller is willing to reconcile with Sheen, prosecutors may choose to proceed with a court case without Mueller's testimony, noted criminal defense attorney Roy Black told "Good Morning America."
"There's no question they can proceed without her cooperation ...because they can use her statements, her 911 call," Black said.
Prosecutors would, however, have an easier time with Mueller's help, he said. Though Mueller told a 911 operator that Sheen had threatened her life with a knife, she was reportedly drunk at the time.
"How much can you rely upon what she said?" Black asked. "She says that he has a knife, he denies it. He says it's just an argument over the children, she says it's more than that."
Domestic violence expert Patti Giggans, executive director of the group Peace Over Violence, told "Good Morning America" that it's not uncommon for women to backpedal from their initial statements after a domestic violence incident.
"That spontaneous wanting safety is very sincere. And then when things settle down, in retrospect, they start to think, 'Well I want to preserve the relationship,'" Giggans said. "Or, 'It's the father of my children and I can't send the father of my children to jail.'"
Sheen is due back on the set of his hit CBS comedy "Two and a Half Men" next week.
Mueller doesn't seeming willing to simply let the incident pass without any consequences.
According to TMZ.com, Mueller hired criminal defense attorney Yale Galanter, famous for representing O.J. Simpson.
Charlie Sheen Drama: Domestic Violence or 'One Bad Night?'
Galanter told celebrity Web site TMZ his client isn't going back on her claim that Sheen threatened her with a "switchblade." But, he admitted, Mueller did "minimize her story, like many wives in a similar situation do, when they realize their husband could go to jail."
Galanter told TMZ that the couple loves each other very much and what happened over the Christmas holiday amounted to "one bad night."
ABCNews.com's calls and e-mails to Galanter for further comment were not immediately returned.
Meanwhile, Sheen's ex-wife, Denise Richards, is using the current controversy to highlight her problems with the actor. Tuesday, she tweeted that "one day..I will spill my guts about EVERYTHING," alluding to her rocky relationship with her ex-husband and father of their two young daughters.
It's the latest in a long line of scandals for the "Two and a Half Men" star. Below, check out the details behind his most recent arrest and his four other infamous flubs.
The Christmas Day in Jail
While many Christmas mornings involve hot chocolate and piles of wrapping paper, this Dec. 25, Sheen landed himself in hot water and added to his rap sheet. The 44-year-old actor getting booked at 11:20 a.m. for second-degree assault, menacing and criminal mischief after Mueller, 32, called 911 around 8 a.m.
People magazine reported that alcohol and the couple's past history of alcohol abuse led to a Christmas eve spat that turned ugly during the early hours of Dec. 25. In the 911 call recording, Mueller tearfully chokes, "My husband had me with a knife. I was scared for my life and he threatened me." She describes the knife as a "switchblade."
When the 911 operator asks for her name, Mueller says, "Brooke" quietly. When asked her husband's name she waits before admitting "It's Charlie Sheen," and starts crying.
Sheen posted an $8,500 bond Friday night and was released from jail that evening. He's due in court Feb. 8, 2010. Sheen returned to Los Angeles after leaving jail while Mueller and the couple's 9-month-old twin boys remain in Aspen.
But Sheen and Mueller aren't splitting up yet, according to Sheen's attorney. "They have two children together and they love one another," Richard Cummins told media outlets Saturday. "And they're going to work through what is a difficult time and they're going to do that together and as privately as possible." According to Radar Online, the two may also check into rehab together.
ABCNews.com's e-mails to Sheen's representatives requesting further comment were not immediately returned.
The Riotous Divorce From Denise Richards
The actor's reported blowout with Mueller isn't the first time his marital fights have turned public. The years-long back-and-forth between Sheen and his second ex-wife, Richards, made their divorce the subject of tabloid headlines long after their four-year marriage officially ended in 2006. The faux pas that took the cake came in June 2008, when Richards released a three-year-old, expletive-laced voice message from Sheen. The highlight: a curse-filled rant from Sheen calling his ex-wife -- and the mother of their two daughters, Sam and Lola, -- a "f***ing c**t" and a "f***ing n****r." Sheen followed up by releasing an apology for what he called his "choice of words."
The Heidi Fleiss Connection
Sheen's lady problems extend beyond his wives. In 1993, Heidi Fleiss, nicknamed the Hollywood Madam for the services she provided some of the industry's biggest names, was arrested in an undercover sting operation that unveiled her client list. Sheen's was the most notable name on her roster. At Fleiss' 1995 federal trial, Sheen admitted in videotaped testimony that he ordered her call girls at least 27 times, running up a tab of more than $50,000.
According to Fleiss, in an attempt to save face, Sheen helped prosecutors push her into jail. Fleiss tried to retaliate in 2007 by helping the transvestite Kayla Coxx market a videotape that purportedly shows Coxx and Sheen hanging out at his house while Coxx drops hints about how friendly she is with the actor.
The Controversial 9/11 Theory
But it's not just women. Sheen's also raised eyebrows with his political beliefs.
In 2006, during an appearance on Alex Jones' radio show, Sheen advanced his controversial Sept. 11 theory: that the fall of the World Trade Center towers looked like a controlled demolition and the U.S. government's account of the attacks ought to be questioned. He explained himself on CNN in March 2006, saying, "I saw the south tower hit live, that famous wide shot where it disappears behind the building and then we see the tremendous fireball. And there was just -- there was a feeling that it just didn`t look ... like any commercial jetliner I`ve flown on any time in my life. And then when the buildings came down, later on that day, I was with my brother and I said, 'Hey, call me insane, but did it sort of look like those buildings came down in a -- in a controlled demolition?'"
Indeed, critics have called Sheen insane, but he maintains his belief. On Sept. 11, 2009, Sheen returned to Alex Jones, calling on naysayers to debate him on live TV.
Sheen's First Rehab Stint
If Sheen does go to rehab following his Christmas stint in jail, it wouldn't be the first time. He's checked in and out of facilities multiple times for drug and alcohol problems. In May 1998, Sheen was hospitalized after his body "gave out" as a result of the drugs and alcohol he had consumed, according to a spokeswoman for Los Angeles' Los Robles Medical Center. Sheen's father, actor Martin Sheen, issued a tearful statement outside the hospital, saying, "My son is here because of a drug overdose. This is not an easy moment in our lives, but it's a necessary one. Our hope is that he will accept recovery and be fine."
In a 2002 interview with TV Guide, Sheen detailed his demons, explaining how he started drinking again in the early 1990s after a year of sobriety. "I was at Nic Cage's house and he had to go out, so I found a beer and drank it, celebrating my year. Everything bad the experts told me would happen, happened," he said. Perhaps Sheen will heed the advice of the experts this time around.