The registered sex offender charged with raping and murdering 17-year-old Chelsea King could be linked to "several" attempted kidnappings in the area, police said today.
Police in Lake Elsinore, Calif., a San Diego suburb where John Albert Gardner III registered as a sex offender in January, are reexamining several recent assaults on young women.
The family of a 16-year-old girl told police Sunday, the day Gardner was arrested, that their daughter recognized Gardner from news reports as the man who tried to kidnap her on Oct. 28, 2009.
"At the time we didn't have a suspect," said Sgt. Joe Borjas of the Riverside County Police Department. "We're taking another look at all of the recent incidents that bear a similarity to the King case, including that one."
The girl reported the attempted kidnapping on the day it happened, telling police she was on her way to a friend's house around 7 a.m. when she was approached by a man in a gold 1990s four-door sedan asking directions.
The man showed her a gun and demanded she get in his car, but she refused and ran away.
A police sketch from the time, compiled from the girl's description, bears a striking resemblance to Gardner.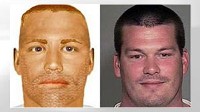 The girl described the man who tried to abduct her as 30-35 years old, with brown hair, fair skin and a blonde crew cut.
Police said the October incident was one of several reported attempted abductions reported last fall.
Borjas said police had not tallied all the cases that could be related, but there were numerous similar incidents at the time.
"We don't know exactly how many cases there are, we're in that process right now," said Borjas. "There are several with similarities from around that time."
More Attacks May Be Linked to Chelsea King's Accused Killer
Police had already connected Gardner to an attack on 23-year-old graduate student Candice Moncayo in December 2009 on the same jogging trail where Chelsea King died, and believe he could be responsible for the disappearance of Amber Dubois, 14, who vanished while on her way to school in Escondido in February 2009.
Moncayo reported being attacked on the same jogging path in the same park north of San Diego in which King went missing.
"I thought he was going to rape me," Moncayo said of the overweight man who tackled her. "So I told him he would have to kill me first."
Gardner is 6 foot 2 and weighs 230 pounds.
Moncayo elbowed her attacker in the face and was able to flee. She also contacted police about recognizing Gardner after his picture was flashed across the country following his arrest.
The family of Amber Dubois, who has never been found, also believes that Gardner, a sometimes self-employed electrician, is responsible for the girl's disappearance.
At a press conference Wednesday following Gardner's arraignment, Amber's father Maurice DuBois said he hoped Gardner's arrest would lead to a break in his daughter's case.
"We've spoke to law enforcement. They are working on Amber's case hand-in-hand with the crime scene for this," DuBois said.
"The similarities, the accessibility of the location ... there are enough similarities" to make the family suspect Gardner was responsible for his daughter's disappearance, DuBois said.
Gardner who pleaded guilty to molesting a 13-year-old girl in his parents home in 2000. He served five years of a six-year sentence and was on parole until 2008.