The alleged blackmailing of late-night host David Letterman may seem more like fiction than fact, but such blackmailing of celebrities is not uncommon in the high-stakes world of show business.
When Robert "Joe" Halderman, a veteran producer for CBS News, allegedly shook down Letterman for $2 million last month, prosecutors said, he not only demanded money but also threatened to write a tell-all screenplay and book about Letterman's affairs.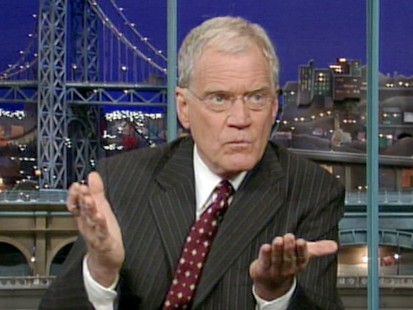 If true, Letterman joins a long list of other celebrities who were blackmailed over tell-alls.
In 2006, Yoko Ono's chauffeur, Koral Karsan, demanded $2 million or he said he would write a tell-all book and expose private photos of her.
Karsan accused Ono of harassing him.
"She's just trying to stop me from pursuing the sexual harassment case," Karsan said in December 2006.
But Ono went to the police and Karsan pleaded guilty to grand larceny in the third degree.
The same year, actor Bruce Willis said a childhood friend threatened to sell a tell-all manuscript about him. Willis argued it was full of lies, but the case was settled out of court.
"I think celebrities have reputations which are magnified from regular people and I think that's one of the reasons it matters so much," Michael Levine, a celebrity publicist and author, told ABC News. "Their brand is very valuable."
But damaging the brand is not illegal outright, although threatening to do so and expecting payment from the victim is, defense attorney Roy Black said.
"[Halderman's] problem is it's perfectly lawful to sell a script," Black said on "Good Morning America" today. "What you can't do is go to the victim and say, 'You pay me to keep it quiet.' That's the difference between selling a script and extortion."
Celebrity Extortion Is Common
From Janet Jackson to Roseanne Barr, celebrities have reportedly gone to court or gone public with allegations that people tried to blackmail them by selling their sordid stories.
"You can pay to try to keep it secret but, ultimately, the extortionist always has the potential of coming back and continuing to haunt your life," Dana Cole, a legal analyst, said. "So, oftentimes, that's why celebrities do go to law enforcement because they know the extortionist might never go away."
But, Cole argued, there is a flip side to these stories. Information in Hollywood is a hot commodity, and celebrities want to keep their scandals quiet.
"I think people would be very surprised to know how many celebrities end up paying to keep their sex lives a secret," Cole said.
Black said celebrity extortion happens all the time.
"Remember, for blackmail or extortion, No. 1, you need a reputation, No. 2, you need a secret. ... Celebrities are classic examples of this," Black said. "People who know secrets about them can cash in on it."
In the alleged Letterman blackmail case, Cole said, Halderman's attorney may try to argue that his client was not trying to extort money from the late-night host but trying to sell a movie script.
In an interview with "Good Morning America" last week, Halderman's attorney, Gerald Shargel, said there could be more to the story.
"One of the elements that the prosecution has to prove beyond a reasonable doubt is specific criminal intent," Shargel said. "My point is that ... by what I've learned so far, I'm comfortable in saying that Joe Halderman did not have the specific intent required by the statute."
CLICK HERE to return to the "Good Morning America" Web site.