Tiger Woods' return to golf at the Masters next month has all the makings of a Hollywood-style comeback, but according to one expert, Woods doesn't need to win to score points.
"It's his re-entry back into this world and the softest possible landing," ESPN's Mike Tirico told "Good Morning America." "It's about that re-entry, not necessarily going back to the top of the golf world at this time."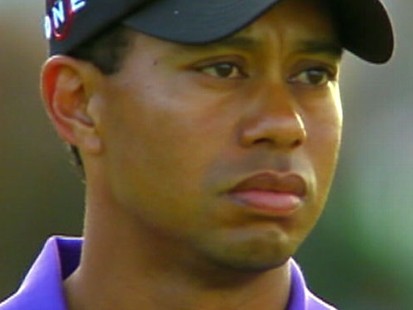 After a nearly five-month self-imposed hiatus from the sport following a shocking infidelity scandal, Woods announced Tuesday he would make
his return
at golf's most prestigious event, the Masters in Augusta, Ga., on April 8.
"The Masters is where I won my first major, and I view this tournament with great respect. After a long and necessary time away from the game, I feel like I'm ready to start my season at Augusta," Woods said in a statement.
"The major championships have always been a special focus in my career, and as a professional, I think Augusta is where I need to be, even though it's been a while since I last played," he said.
It's also a logical choice, Tirico said, for the amount of control the Masters provides versus other major events.
"It's the most controlled setting," Tirico said. "The only people inside the ropes at the Masters are the contestants, the caddies, the rules officials and a couple of the cameras that throw the TV pictures. By and large, compared to a regular PGA Tour event, it's a more pristine environment. Less distractions."
While public relations experts called the return one of the most significant moments in Woods' storied career, it's also a major moment for the sport.
"It's awesome to have your stud back, our star," said fellow professional golfer Kenny Perry. "He carried our tour."
TV ratings for golf dropped as much as 50 percent during Woods' absence.
Woods has been reportedly practicing with swing coach Hank Naney, but it's not the technical performance that Turico said could be the problem.
"The mentality is the $1 million question here," Tirico said. "We don't have those answers. We don't know how Tiger is approaching golf, if it's with the same zeal and zest and single-mindedness that he's known before when he gets to the first tee. Many haven't seen him and nobody knows how he's going to play."
Tiger Woods' Scandal Shocks Nation
Tiger's tale of tribulations started in late November, when he plowed his SUV into a fire hydrant and then a tree near his home in Isleworth, Fla.
In the days that followed an alleged relationship between Woods and a New York City nightclub hostess sparked a deluge of allegations of additional affairs. Before long, Woods was rumored to have been involved with more than a dozen women, including a porn star.
On Dec. 11, Woods announced he would take an indefinite leave of golf in an attempt to save his marriage. Woods entered a rehabilitation program, which he said he would continue in his statement Tuesday.
"I have undergone almost two months of inpatient therapy, and I am continuing my treatment. Although I'm returning to competition, I still have a lot of work to do in my personal life," Woods said in today's statement.
It is not known if Woods' wife, former supermodel Elin Nordegren, will be by his side when he returns to the course.