Australia hasn't just provided Nicole Kidman with a place to spend her formative years, to launch her career and to serve as the inspiration for her latest film; it also has given her the opportunity to have something she thought was impossible — a baby.
Years after doctors told the Aussie actress that she had a 2 percent chance of having a biological child, she discovered she was pregnant while filming "Australia."
"I was very lucky that, that that happened to me because I didn't think that was gonna happen in my lifetime. I didn't think I'd get to give birth to a, to a child," she said on "Good Morning America" today. "So yeah, this is my favorite film I've ever made for the rest of my life."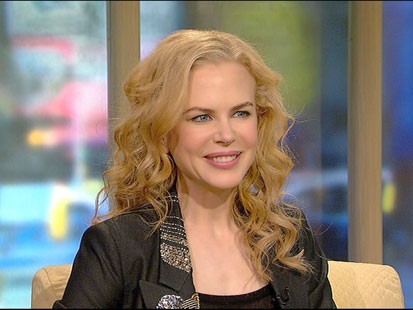 Co-star
Hugh Jackman
said he realized early on his co-star was pregnant.
"It wasn't really a surprise at that point because about a fortnight before that, there was barely a scene she could get through without running to the bathroom in between each take. And I thought, 'Either she's had really bad food poisoning for about two weeks or she's pregnant,'" he said.
Kidman, who has two adopted children with former husband Tom Cruise, joked that the magical waters made several women fertile on the set.
"We were swimming in the same water hole and we go see, it was that water hole that got us pregnant. It's a joke though. I don't want people going up there and believing that stuff," she said. "I think there was about seven of us that got pregnant and had and took our babies to term. So yeah, it was a pretty magical film."
The movie, which is set in pre-World War II northern Australia and opens Nov. 26, focuses on an English aristocrat, played by Kidman. Her character is forced to join forces with a stock man portrayed by Jackman to drive 2,000 head of cattle across the country hundreds of miles away.
Kidman said Kununarra, where "Australia" was filmed, was "absolutely gorgeous. The sunsets are the most magnificent thing you'll ever see."
And while Kidman said she enjoyed doing the movie, she and her husband took measures to ensure filming on the faraway continent didn't interfere with their relationship.
"You just say, 'This is the priority. Our marriage is our priority.' And so, if something fits into that, great. And if it doesn't, then I have no trouble saying no. And it's that simple," said Kidman who makes her home with Keith Urban in Tennessee. "I want a life that's about family and I'm not willing to jeopardize that in any way. So that's my commitment."
The pair made a rule that they would never spend more than a week apart.
"Keith flew back and forth, and we really tried to make -- we tried to make it work so that I could make this film and he could still do his tour," she said.
And though Kidman is now focused more on raising daughter Sunday Rose, she hasn't lost her enthusiasm for film.
"It's not that I don't have in my blood still running through me passion for my work. I would love to be able to have the chance to do -- I mean this film, 'Australia,' is so important to me because my marriage had to accommodate it, as well," she said. "This is really important to me, this film. I wanted this. I wanted to make it and it's part of my voice in terms of my life. It says something."