Santa may have millions of stops to make on his night ride this Christmas, but one Colorado mother is making absolutely sure he doesn't skip one group that she said many have forgotten -- American soldiers in Afghanistan.
Tracey Nazarenus, mother of Navy petty officer Nick Nazarenus, 21, teamed up with her daughter's high school and a local elementary school in Brighton, Colo., to send dozens of boxes of gifts half way around the world to her son and his comrades in arms this Christmas.
"They feel a little forgotten over there, so it's kind of nice to let them remember how many people over here are thinking of them," Nazarenus said.
The Christmas shipment, which will contain 300 boxes, started as just one, Tracey Nazarenus said.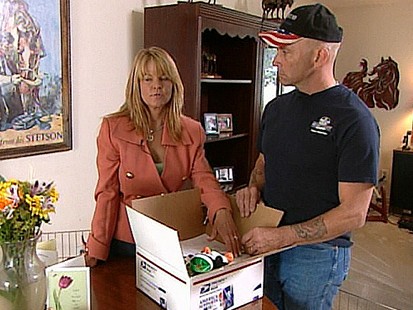 She sent her son a single box when he was stationed in Bagram, Afghanistan.
"I called him, and he said it was great, and I said, 'Great, you ate all that candy already,' and he said, 'No, we share everything because there's not much coming over here," she said.
Then, for Nick's family members, the care packages became a way to keep their minds off the seemingly constant reports of violence.
"So I decided I could either get sick and worry, or I could do something about it and make their life a little more like home," she said.
For reinforcements, she enlisted the help of Prairie View High School, the school her daughter attended. Students spent weeks gathering supplies of lotion, shampoo, toaster pastries and beef jerky, among other things.
"Even when the economy is bad and things aren't so good here, there are some people who are worse off than we are," said Luke Lane, a Prairie View student.
Nazarenus said that her son also requested toys and stuffed animals that the soldiers could give out to the children of Afghanistan to spread some goodwill.
Pathway Academy, a local elementary school, also took up the task. To get to Afghanistan, the boxes first had to pass through customs in San Francisco, be flown to Japan and then on to their final destination.
More than 7,000 miles later, Nazarenus' son will finally receive a little piece of home.
"You open it up and it's stuff from home that you're used to having at home but you don't have access out here," Nick Nazarenus said. "So [that] puts a smile on your face."
But the gifts put smiles on more faces than the soldiers as the toys are handed out to Afghan children.
"I think it's important to show the local kids that America is here to help them," he added, "show them that we're not bad people, that we do care for them."
For more information on sending gifts to troops, check out TreatsForTheTroops.com.