New figures from the National Association of Realtors show "pending home sales" -- the number of houses that are under contract and about to be sold -- are up 6.3 percent compared to last month.
The study shows the biggest gains are in areas where prices have gone down the most, like the Midwest and the South.
Plummeting prices can be bad news if you're trying to sell your house, but they also bring in investors, and there are strong signs that that is beginning to happen.
So we wanted to know, what can you get for $100,000? How about $35,000? Even $7,000? It turns out, 20 percent of the homes listed for sale on real estate Web site Zillow.com are priced at less than $100,000. Many are cheaper than a used car!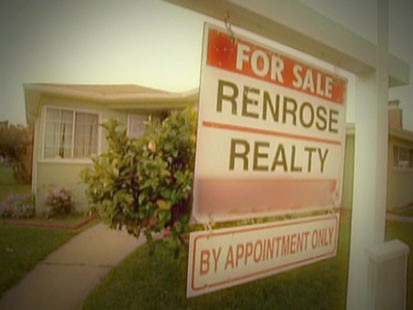 "Buyers are really in the driver's seat to negotiate now," said Amy Bohutinsky of Zillow. "Sellers have homes that have been sitting on the market for months and months. Many are willing to take a price that's less than what they're asking for, and they're also willing to throw in things, like paying for the closing costs. So don't be afraid to ask, and don't be afraid to negotiate, and you really can create your own bargain no matter what home you're looking at."
So which would you rather have? This beige three-bedroom, two-bath house in Muskegon Heights, Mich.? Or this beige 2004 Chevy Impala with 93,000 miles?
They're both priced at $6,900. That's right. You can now get a Michigan house for the same price as one of the cars that was made there.
In Jackson, Tenn., $10,000 will buy you this 1,400-square-foot home.
That's less than it sold for the last time it changed hands -- in 1976. And that's the same amount you would pay for a 2004 Ford Expedition.
ABC affiliate KNXV found a handyman special in Phoenix for $15,000, the same price as a new Honda Civic. But investors say that jaw-dropping price is actually too high.
"The banks own it," said investor Stan Fosha. "And the banks have learned there's one rule in real estate. Price sells."
Buy Houses Under $100,000
A
brand new Chevy Avalanche
truck costs $35,000.
And so does this three-bedroom house with hardwood floors in Cumberland, Md.
The truck will start depreciating the second you drive it off the lot. The house will go up eventually. Real estate always does.
"So for people who have the stomach for this and have some money saved up, it can be a great time to get out and buy," said Amy Bohutinsky of Zillow.
All this makes $100,000 seem expensive. That's the price for a Mercedes G-class sport utility vehicle. And it's also the price for a 2,300-square-foot house with ceramic tile and lots of built in cabinets in Dallas.
"There is a pool in the backyard, a diving pool. There is an added sun room," real estate agent Amy Downs told ABC News. And here's some perspective: Right now the mortgage payment on a $100,000 is less than $600 a month.
That's because interest rates are low too -- close to 5 percent. But here's the big caveat: Lending standards are higher. You have to have a credit score of at least 720 -- some say 740 -- to qualify for a tip-top mortgage and snag one of these bargain houses.