Irish-American actor Liam Neeson said today that Sen. Ted Kennedy, who died late Tuesday at the age of 77, was "a special man."
He also noted that Kennedy was "very influential" working to end the violence in Northern Ireland, a subject very close to Neeson and the focus of his new film "Five Minutes of Heaven."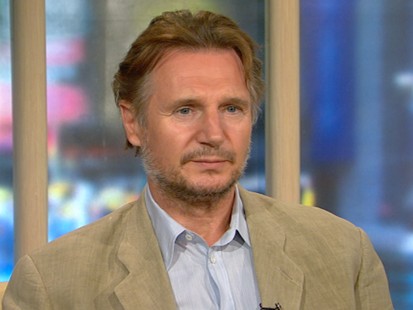 "I have a very clear memory of being a 10-year-old boy and being taken to the ancestral Kennedy homestead in Ireland and posing for a photograph underneath the gable of their home with the American flag and the Irish flag up there on the gable," Neeson, a native of Ireland, told Diane Sawyer on "Good Morning America."
"I met him a couple of times over the years, and he wrote my family a very, very beautiful, touching condolence letter when Natasha [Richardson] died earlier this year," Neeson added. "He was a special man. It's the end of an era."
Neeson's wife, actress Natasha Richardson, died in March at the age of 45 after falling during a skiing lesson and suffering a head injury. The actor said that he and sons Michael, 12, and Daniel, 13, are "taking each day as it comes."
"I'm still getting extraordinary condolence letters from American people that's deeply touching," he said.
He said that was part of the reason for his recent decision to become an American citizen.
"I've been living here for 20 years and America's been very very good to me," he said. "I'm still a proud Irishman, of course, but I've become an American citizen. I'm very, very proud of that."
Liam Neeson in 'Five Minutes of Heaven'
In his new film "Five Minutes of Heaven," the Tony- and Academy Award-nominated actor plays an ex-member of an outlawed Northern Ireland paramilitary group who is haunted by memories of murder.
"Five Minutes of Heaven" is a fictionalized version of real events about 17-year-old Alistair Little, who murdered a 19-year-old Catholic, Jim Griffin, in 1975. The murder was witnessed by the victim's 11-year-old brother, Joe Griffin, played by James Nesbitt.
Neeson says it focuses on "how one act of violence can absolutely demolish a family," and how "you try and start to heal the human heart after an act of violence."
Neeson left Ireland approximately 30 years ago, and returned to film the movie.
"I've been offered a lot of scripts [on] Northern Ireland…I've tried to avoid it but this one just got into my heart," he said. "It was true, it was novel, it said something, so it was a no-brainer."
Neeson plays Alistair Little 30 years after the murder, and chose not to meet his real-life counterpart until he had completed filming his scenes.
"I didn't want to be reminded how physically unlike Alastair I actually am," he said. "I did meet him on my last day… I thanked him for sharing this horrendous part of his life."
"Five Minutes from Heaven" opened in selected markets on Aug. 21.