By taking steps outside the confines of their own facilities, more and more hospitals have been able to keep their asthmatic patients from showing up at their emergency rooms as often.
But ironically, programs aimed at improving asthmatic patient's quality of life may be hurting these hospitals' bottom line.
Children's Hospital in Boston is one of several in the nation that run home intervention programs for children with asthma. They help parents learn more about the condition, administer medications properly and clean homes of dust and other irritants that can trigger reactions in children with the condition.
"It's designed to address some of the problems the hospital was seeing in terms of certain kids with more severe asthma or other issues, repeatedly coming into the emergency room or being hospitalized," said Susan Sommer, a nurse at Children's who works in the program, called the Community Asthma Initiative.
"If we can reduce exposure to those triggers, kids are going to be healthier and may possibly need less medication because they're not being exposed to as many allergen," she said.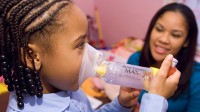 Courtesy Children's Hospital Boston
But while these programs improve quality of life for the children and lower the number of hospitalizations and visits to the ER, they also may create a revenue problem at the hospital, as they lose a source of admissions and typically are not paid for the interventions themselves.
"An empty hospital bed is a revenue loss, and asthma is Children's Hospital's leading source of admissions," wrote Dr. Atul Gawande of the program in the April 5 issue of The New Yorker. "Under the current system, this sensible program could threaten to bankrupt it. So far, neither the government nor the insurance companies have figured out a solution."
Dr. Shari Nethersole, a pediatrician at Children's and the medical director for community health said the program was started in late 2005 using philanthropic funds as well as a grant from the Centers for Disease Control and Prevention.
She predicts that the asthma program would not bankrupt Children's. At the same time, Nethersole said funding has proven to be a challenge. Just one small insurer in Boston pays for the home visits, and Medicaid, which accounts for the insurance of over 70 percent of the children, does not cover them at all.
"Our CDC grant runs out in another year and a half, two years," said Nethersole, explaining that it is unclear where funding will come from after that time.
An Unclear Financial Picture
While it may seem the hospital loses money by providing an extra service for its asthma patients, Nethersole said it isn't entirely clear that this will continue to be the case in the long run.
She noted that beds freed up by not having as many asthma patients could make it possible for the hospital to care for patients with more complicated problems.
"Whether the hospital actually loses or doesn't lose money is a very complicated analysis," said Dr. Charles Homer, a pediatrician and CEO of the National Initiative for Children's Healthcare Quality.
He explained that in cases like Children's Hospital in Boston or Children's Hospital of Philadelphia, which runs a similar asthma intervention program, "It's complicated because those are very high intensity places and they can often take care of children with more complicated needs and problems."