Many surfaces and objects you come in contact with every day are covered in germs -- but then again, so are you.
"Ninety percent of you is composed of germ cells," said Philip Tierno, director of clinical microbiology and immunology at NYU and author of "The Secret Life of Germs."
He explained that while we are constantly in contact with germs, only a small minority will cause any harm.
"Of the 60,000 types of germs that people come in contact with on a daily basis ... only about 1 [percent] to 2 percent are potentially dangerous to normal people with normal immunity," he said.
That works out well for us, because pretty much any surface contains some of these microscopic organisms.
"There's very few surfaces that are truly clean," said Dr. Aaron Glatt, president and CEO of New Island Hospital in Bethpage, N.Y., and a spokesman for the Infectious Disease Society of America. "You're almost never going to culture something and not find some germs on it."
With that in mind, there is a simple activity that anyone can engage in to stay as safe as possible from surface germs.
"People should know that washing their hands is the single most important mechanism we have to prevent infection," said Glatt.
While he stressed that "the optimal goal is to practice good personal hygiene, good household hygiene and good food hygiene," Tierno also noted the importance of clean hands.
"You don't need to live in a bubble ... but you do need to be aware," he said. "You can touch surfaces, but just clean up before you eat or drink or before you touch your face."
Visit the OnCall+ Cold & Flu Center
"If you wash your hands prior to touching your face or prior to eating or drinking, which should be the norm, you cut your risk to virtually nil."
Purses and Wallets
Although they serve similar functions for women and men, purses and wallets are germy for entirely different reasons.
"It behooves you not to put your purse on the floor or outside ground if you can help it," said Tierno.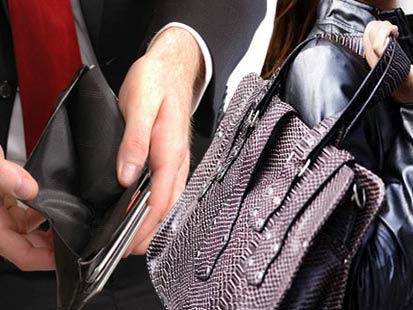 But many women don't follow that bit of advice, so their purses pick up the bacteria from wherever they're placed -- from the soiled ground to the bathroom floor.
While some might be willing to put it there because they think the floors are cleaned regularly and thoroughly, that isn't always the case.
"The way these places are cleaned is not ideal all the time," said Tierno.
Instead, he recommends putting your purse on a bench or a seat.
Wallets, meanwhile, pick up a lot of bacteria from what goes into them.
"Men's wallets were pretty bad on the inside," said Charles Gerba, a professor of microbiology at the University of Arizona whose work has earned him the nickname "Dr. Germ."
Paper currency has a way of getting around, from germ-filled hand to germ-filled hand. It picks up germs, viruses and often trace amounts of illegal drugs -- that's not just an urban legend; several studies have confirmed that a majority of U.S. currency contains trace amounts of cocaine. And of course, all of that ends up in your wallet.
Because men keep wallets in their pockets, the wallet is close to body temperature -- an ideal temperature for bacteria to breed.
"When handling the contents of your wallet, after it, wash your hands," said Tierno.