Mary Ann Blade, a registered nurse and chief executive officer of the Minnesota Visiting Nurse Agency, one of the sponsors of Say Boo to the Flu, said, "If you sneeze in your hand and then touch someone else, you're spreading those germs."
Of course, that problem can present itself after blowing your nose with a tissue as well, so there is still one more step to prevent the spread of illness.
Washing Your Hands
Hand hygiene is consistently pushed as the best weapon against viruses and germs.
But many adults still don't wash their hands when they should, and children are less likely to do so.
"I think you have to make it fun," Blade said. "Where I work here, we do a lot of day care. ... It has to be fun. You do need to kind of connect it with a song."
The Web site for Say Boo to the Flu has a few activities parents can engage in with children to promote washing hands.
Lastinger agrees that stressing the importance of prevention and making it enjoyable is the key to getting children to practice good hygiene.
"Just make it fun for them," Lastinger said. "If they see it's fun and they see why it's important, I think they're more likely to do it."
Flu Vaccine
Lastinger said, "We lost our daughter to influenza in 2004, and in the aftermath, my wife and I really felt if there was anything we could have done that might have saved her life, it would have been to have her vaccinated."
He said that unlike other flu-prevention techniques, the vaccine gives better piece of mind to parents because it does not involve any initiative on the part of the child.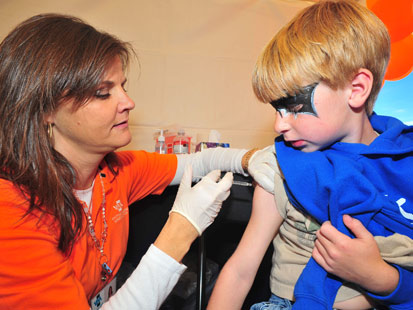 "One of the reasons why vaccination is so important is that those things are good, but it's so hard. ... If you go in a preschool and watch those kids. ... You can't put those kids in a bubble," Lastinger said. "If you vaccinate them, you know as a parent that that vaccine will go wherever they go."
Blade said that people have questioned the flu shot, but the fears parents raise are unfounded.
"People have asked the question, 'Can you get the flu from the flu shot?'" she said. "If people believe that, they're afraid to get the shot."
Additionally, she noted, parents know that all children are recommended to receive the flu vaccine this year, as well as anyone who interacts with them.
"If you can get them immunized, and you can then get ... the people who come in contact with children, we're going to be a healthier society," Blade said.
Have the Whole Family Vaccinated
"Also important is not only getting your kid immunized, but getting yourself immunized as well," Baystate's Grossman said.
Because children consistently pick up bugs, their families can easily catch them. Familywide vaccination is also important because it can help protect newborns, whose immune systems are not fully developed and who cannot receive the flu vaccine until they are 6 months old.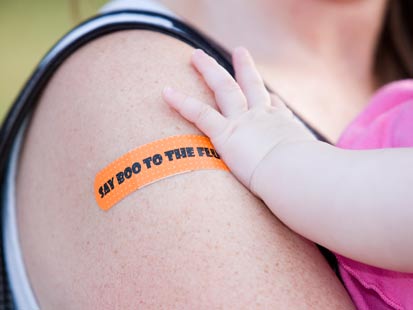 Additionally, the flu vaccine cannot guarantee that you will not catch some strain of the virus, and by having everyone in the household vaccinated, it reduces the chances of a strain that one person catches from being spread throughout the family.
For those reasons, some organizations that promote childhood flu vaccination, including Say Boo to the Flu, promote vaccination for adults in the household as well. At many events, parents can get vaccinated along with their children.
"The bottom line is everyone should get a flu shot," Grossman said.