1918-19 Stanley Cup
The influenza outbreak of 1918-19 killed 50 million people--more than three times the number killed in World War I.
Many sporting events were able to continue that year--the Boston Red Sox beat the Chicago Cubs 4-2 in 1918 to win their last World Series for a long time--but others ended up bowing out due to the tragic international epidemic.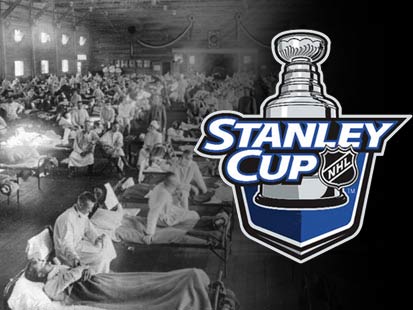 The Stanley Cup final in March of 1919 pitted the Seattle Metropolitans against the Montreal Canadiens.
The teams played five games in a best of five, but with one game ending in a tie, the series was knotted at two wins apiece headed into the decisive game.
However, a number of Canadiens players had caught the flu at that point. While they attempted to forfeit the series, the Metropolitans did not accept, and so the series was called off.
Joe Hall, a defenseman for the Canadians, died from pneumonia--a complication from the flu--just a few days after the series was cancelled.
-------
Cold & Flu season is here! Visit the ABCNews.com OnCall+ Cold & Flu Center to get all your questions answered about these nasty viruses.