"They never were developed to prevent internal organ injuries," Mandak said. "Now, we're looking at ways to develop that."
In addition to improper padding for internal organ injuries, chest protectors will shift when a player moves.
Stenersen said that following Boiardi's death in 2004, there was an increased push for all players -- not just goalies -- to wear chest protectors.
"It was not a panacea," he said. "The issue right now is that there is no chest protection in any sport that has been proven to eliminate commotio cordis."
In addition to U.S. Lacrosse's efforts to improve safety by getting better chest protectors and making coaches aware that they need automated external defibrillators on the fields, Dr. Margot Putukian, chair of U.S. Lacrosse's safety board and the director of athletic medicine at Princeton University, said that some changes in coaching might help as well.
In lacrosse and hockey, where commotio cordis has also been known to occur, players will often block shots by putting themselves between the ball or puck and the net. While often done at the professional level, it can be a difficult technique to master and often can lead to injury.
"To me, it just seems like there are issues there in terms of coaching," she said. "Kids need to know that they shouldn't do shot blocking in hockey when they're young. In lacrosse, it's the same thing."
Primary Lacrosse Injury Concerns
"Obviously, the safety of the sport is a primary concern for anyone managing the sport's development and growth," Stenersen of U.S. Lacrosse said. "[Commotio cordis] is a primary concern."
But while the shocking and highly publicized results of commotio cordis may get a lot of attention, it is not the most common lacrosse injury or the most widespread problem.
Lacrosse is the fastest-growing high school sport in the nation, with roughly 144,000 participants in the 2007-08 school year, according to the National Federation of State High School Associations.
But that kind of growth can present its own problems. When a sport grows quickly, many new coaches may not have adequate training -- a situation some worry may lead to injuries.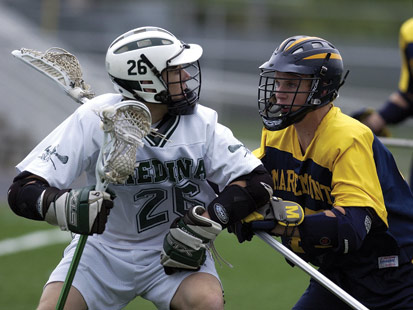 "It's a concern among the governing body, that it is growing so quickly," said Andrew Lincoln, director of orthopedic and sports health research for the MedStar Research Institute in Hyattsville, Md..
Lincoln also serves on U.S. Lacrosse's sports, science and safety committee.
"The big emphasis on the field has been with concussions," said Dr. Craig Bennett, an orthopedic surgeon at the University of Maryland Medical Center and the team orthopedic surgeon for the University of Maryland sports teams.
He notes that in 12 years working at the college level in lacrosse and baseball, he only knows of one occurrence of commotio cordis.
But concussions can be a common occurrence in lacrosse, and Bennett has joined in some steps to prevent further injury.
"Many high schools and most universities are involved with the ImPACT program," he said.
ImPACT is a user-friendly, computer-based testing program, based in Pittsburgh, specifically designed for the management of sports-related concussions. Athletes take a test of their cognitive abilities at the start of the season, in order to determine a baseline. In the event of a concussion, doctors can better determine if there is a risk of further injury.