Gymnastics
The injuries that plagued the U.S. Mens' and Womens' Gymnastics teams during the 2008 Olympic Games in Beijing were a clear indication that the sport of gymnastics poses serious strains on the human body.
At the high school level, the risk is no different. In fact, those only involved in gymnastics at their high schools, as opposed to also being part of a club, put themselves at greater risk for injury.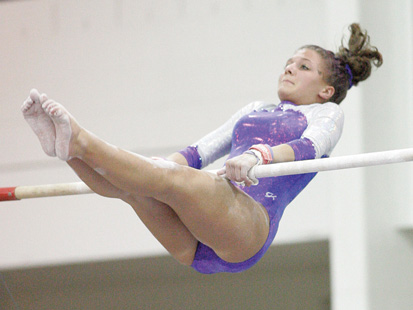 According to Mary Bakke, a national gymnastics judge for USA Gymnastics and the national technical chair for United States Association of Independent Gymnastics Clubs, Inc., those involved in all-around clubs are better conditioned than high school gymnasts, who only compete in the sport for a season.
In comparison to club gymnasts, "high school gymnasts are out of shape," said Bakke.
"[Having] a trained coach is important," she added. "[Sometimes] high school coaches don't know the sport," a fact that can put the athletes in harm's way.
Injuries that are unique to gymnastics are knee and ankle injuries, as well as the occasional arm, hand, neck or back injury.
"Floor exercising and vaulting are prone to injury," Bakke pointed out. "If the body is not in good alignment, the body is piked," which can lead to severe injury.
Gymnasts are trained to minimize their own risk of injury through good conditioning of their bodies which includes maintaining good flexibility, muscle control and staying in good shape. Also, it is important for gymnasts to learn how to absorb the shock from their landings through techniques which include bending the knees upon landing rather than keep their legs straight.
Bakke emphasizes that "things have to be broken down [by coaches] to lead up to certain skills" as well as having workouts tailored to a particular gymnast. The consequence of doing a trick cold turkey can include a permanent injury accompanied by chronic pain.
At most gymnastics facilities and meets, there are athletic trainers who help condition the athletes, as well as a sports medicine trainer to help treat injuries.
When a gymnast suffers minor pain or weakness on their joints, they are often asked to tape their ankle, knee or elbow to give it extra support. However, taping does have its limitations for a competing gymnast.
"[When you] tape an ankle, your range of motion is limited," Bakke stated. "You can't point your toes."
"You're gaining something, but giving something up as well."
Soccer
When Tonia Speicher came in to school, John McDonough, athletic director for Boston Latin School in Boston, Mass., thought she had messed up her eyeliner and mascara.
It turned out that Speicher, a junior at Boston Latin School and midfielder for the girls' soccer team had developed two black eyes from an accident that occurred during one of her soccer games.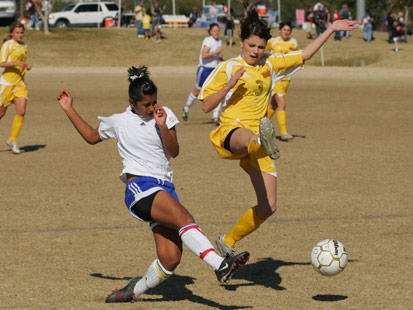 "I was heading the ball [and] the other girl was also heading," Speicher recalled. "We were facing each other," which resulted in a nasty head collision between the two players.
Speicher ended up getting what she described as "a giant egg on my forehead... which progressively turned into two black eyes" and damage to her nose.
Racoon eyes were not the only casualty that Speicher had endured from being part of the soccer team. Over the summer, she had participated in summer-league soccer, where she sprained her ankle.