Robert Baxter, an avid outdoorsman, couldn't hold on long enough to see the legal victory that he hoped would allow other terminally ill patients the right to die.
The 76-year-old Montana truck driver -- an "every guy Joe" whose body had been ravaged for 12 years by cancer -- stopped chemotherapy last November and began to rapidly decline and lose weight.
"He was so skinny he couldn't sit because his skin hurt," said his 47-year-old daughter, Roberta King of Missoula. "It pinched his skin together because there was no meat. It was that bad."
But his death on Dec. 5, 2008, came at nearly the same hour that the First District Judicial Court of Lewis and Clark County upheld the right for the dying to seek help ending their lives from their doctors.
Today, King plans to carry on her father's historic challenge to the Montana Supreme Court, testifying with other families in a 70-minute hearing that denying their loved ones a "compassionate option" to their end-of-life robs them of their right under the state constitution to dignity and self respect.
Listen to the Montana Supreme Court hearing here.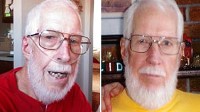 A Death With Dignity law was enacted in Oregon in 1997 and in Washington state in 2008, but in both cases by referendum, not constitutional challenge.
The case, Baxter vs. Montana, is being championed by Compassion & Choices, a national group that advocates to protect and to expand the rights of the terminally ill and is also one of the plaintiffs.
Other human rights organizations and 31 Montana state legislators also support the suit.
The state argues that the constitution confers no right to aid in ending one's life. They also say that Montana has one of the highest suicide rates in the country and many parts of that rural state have limited access to health care, a landscape that would encourage assisted suicides.
The defendants also include ethical groups, who argue that legalizing assisted suicide opens the door to euthanasia, particularly for the old and disabled.
Both sides say the state supreme court will likely uphold the lower court ruling, especially in light of the state constitution's high regard for "the dignity of the human being."
The Montana Supreme Court will have the final word, with no appeal possible to the U.S. Supreme Court.
For 12 years, Baxter fought lymphocytic leukemia, but every bout with chemotherapy "knocked him down a bit," said King. At one point several years ago, he quit treatment, but then changed his mind.
"He decided to go back and pursue the chemo and finish out some of the end-of-life things before he passed," said King, an artist and trainer at Curves gym. "He had led a busy active life and he was not able to enjoy it anymore."
In addition to selling his RVs, boats and other "toys," he contacted Compassion & Choices.
"He was very private about it," said King, who found a stack of papers on his desk one day.
"I was really kind of selfish and wondered how it would affect the rest of us," she said. "I guess it surprised me. But we are all proud of him. This meant a lot to him."
The supreme court challenge also includes five other Montana families of people who wanted aid in dying and could not get it.