Since the day her newborn daughter left the hospital, Lakshmi Nair has always used her car seat as instructed.
The 30-year-old first-time mother, who also happens to be an anesthesiologist in private practice at Medical City Hospital in Dallas, works on airways for a living. She said that she has never -- not even once -- imagined that the car seat restraining her daughter, Maithili, now 8 months old, was in any way affecting her breathing.
"I've never had a problem with my car seat," said Dr. Nair. "Even when [Maithili] is sleeping in it and I'm in the backseat [watching her], her breathing has always been normal."
In a new study released Monday in the journal Pediatrics, however, researchers suggested that the car seats could pose a risk to newborn babies -- those younger than 3 months.
But the suggestion elicited strong cautions from medical experts in various fields who pointed out that the risk was largely theoretical and that scaring parents away from using car seats for these children would expose them to real health risks.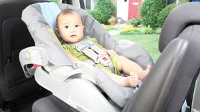 National Highway Traffic Safety Administration
Previous studies had brought attention to the risks of car seats in premature babies with very little insight regarding full-term newborns. According to Dr. Bernard Kinane, a pediatrician at Harvard's Mass General Hospital for Children and one of the study's authors, this study is really the first controlled, large-sample examination of variations in blood oxygen levels in newborns kept in different positions, both in and out of the car.
Clinicians have known for some time that changes in posture could affect infants' breathing, especially in regards to the position of their head and neck.
"It's simple; when kids are in a car seat, they tend to have their heads turned down," Kinane said when asked about the study's premise. This sitting position, he said, could very well lead to constriction of a baby's airway.
Car Seats May Affect Baby's Oxygen Levels
In the study, 200 2-day-old newborns were placed in three positions -- in a crib, in a car seat and in a car bed. Car beds differ from car seats in that they allow a baby to lay flat while still remaining restrained in a car.
The researches then measured the babies' levels of oxygen saturation, which is the amount of oxygen in the blood compared to the maximum possible amount of oxygen it could carry.
When measuring the oxygen saturation in the different positions in the newborns, the authors found average levels of 97.9 percent for cribs, 96.3 percent for car beds and 95.7 percent for car seats. But the lowest values that the researchers observed in some babies dipped to 83.7 percent for the car bed and 83.6 percent for the car seat. Oxygen saturation levels of less than 90 percent are usually considered low in adults.
However, accepted values for infants cover a wider range, and according to Dr. Elliot Krane, professor of anesthesia and pediatrics at Stanford University, "Being in the 80s [for short time periods] is no big deal."
Car Seat Findings Should Not Alarm Parents, Experts Say
The authors concluded that parents should limit a newborn's time in a car seat to only the time necessary for travel and no more. They highlighted the fact that some parents keep their newborns in car seats longer, essentially using them like cribs.
But do these changes in lowered oxygen levels matter?
The overwhelming consensus among experts in the fields of pediatrics, neonatology and pediatric anesthesiology was "no."