DaSilva discovered that in cities like New York, nine out of 10 businesses on a block may be inaccessible to those with wheelchairs and scooters.
DaSilva's journey includes meeting his wife Alison, an environmental engineer, at a support group for MS families. Her mother has the disease, but Cook struggles with the loss of her own freedom in making a commitment to a man whose health is rapidly declining.
"I think it's a love story, more than an activist's film," said DaSilva. "It's about the triumph over challenges -- that's the crux of the whole story. I have MS and am able to find love within it. I want people to draw parallels with their own challenges, however big or small, and draw their own conclusions with their own lives."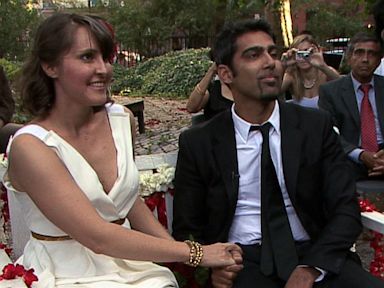 Throughout the film, DaSilva tries to find a medical cure for his MS, even attempting surgery for constrictions in his neck veins that one doctor attributes to MS. But the procedures cure only his headaches, not his disease.
But even that fails and in cinema verite style, the viewer watches his frustration negotiating the locations for his filmmaking and trying to make his hands work well enough to edit on his computer. By film's end, he cannot dress or feed himself.
Today, he relies on the help of voice-activated technologies to help him continue making films and now has numerous interns. "I have to adapt," he said.
"It's definitely gotten worse since the last scene of the film where I am transferring myself onto a chair and am able to lift my arms above my head and point at things," DaSilva said. "Now I need someone to help. My hands are kind of curling up into a ball. Now, it is going after my smaller fine-motor skills."
His voice weakens when he is tired, but on a joyful note, the couple now has an 8-month-old son who has enriched their lives.
Cook, who is 36, said the couple is "surviving" with additional help because of the baby and her husband's needs. DaSilva's symptoms have worsened significantly in the year since the film wrapped. "Every day is a struggle," she said.
She, too, said she has felt "stuck at home" because the city has not made more efforts to help the disabled. "It's frustrating and making me more of an advocate because I think it's so unnecessary -- these are such small accommodations."
"I think we in the United States are ones to show compassion to the most vulnerable," said Cook. "I don't buy the argument that it costs too much."
Watching her husband have his "ups and downs."
"The best moments are joyful and we are excited about what we are doing," said Cook. "The biggest thing he gets excited about is his work. Creativity can help you survive, though it's really tough when you are challenged."
Both were thrilled that DaSilva's next film, which also addresses the needs of the disabled, has received funding.
"But the feelings of frustration and isolation aren't going away," said DaSilva. "I don't think the fight is over -- that's really the big message. I feel like this is a battle in a way. I am not going to stop until people know what we are going through as people who are disabled and have mobility challenges.
"Just because the film is finished, doesn't mean I am going to stop," he said.