ALBANY, N.Y. -- After a day of work at WMHT, a local public broadcasting TV station in Albany, N.Y., John Robinson does the things that countless dads do: Sitting at the kitchen table, he asks his children about their days at school and decides with his wife who will pick up 12-year-old daughter, Ariel, from swim practice.
But Robinson's story is unlike any other.
Robinson, 40, was born without elbows, forearms, wrists, hands, knees or thighs. He's currently featured in a PBS documentary called "Get Off Your Knees" and has just published an autobiography of the same name, which describes his remarkable journey toward independence, a family and a career.
"The last few weeks have been really busy," said Robinson. "But you come to appreciate your time and the things you have."
Robinson has spent the last few months speaking at high schools, colleges and organizations about overcoming life's challenges. "In looking at some of the things that people perceive as obstacles, I have worked very hard to look at those obstacles as opportunities to prove to people that I can achieve what I want in life, and they can, too," he said.
To this day, doctors are not sure why Robinson was born without all his extremities. Doctors initially told his mother that she had been exposed to Rubella, or German measles, during pregnancy, but many others have dismissed that theory. The drug Thalidomide caused abnormalities in babies during the late 1950s and early 1960s but was off the market well before John's birth in 1968.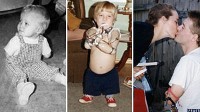 Robinson subscribes to one doctor's theory that his birth was just "a fluke of nature." His sister was born without any birth abnormalities and his own children are healthy. "It was just meant to be," he said.
Childhood
From an early age, Robinson loved sports. His grandfather would toss him tennis balls for hours until the sun set on their country farm in LaFayette, N.Y. The young boy held a bat between his small arms and swung with authority.
Every year, while his peers were outgrowing sneakers and clothes, John and his father, David Robinson, would make the three-hour drive to East Orange, N.J., where John would be fitted for prosthetic limbs. But John disliked the limbs; they restricted his ability to play sports. By the time he'd completed the seventh grade, he decided to stop using them.
"None of us was sure that it was the right decision," Doug Morris, his uncle, said. "But it was one of the earliest examples of John saying, 'I am who I am. I don't want to be 6 feet tall on stilts.'"
There were other challenges growing up, such as being prohibited from playing Little League or learning to dress and drive.
"I remember seeing John in the bathroom with a tear rolling down his face after they told us they weren't going to let him move up from T-Ball," his father, a retired Episcopal priest, said. "It's one of the only times I ever saw John show he was frustrated with his disability."
In high school, John learned to drive on his grandfather's tractor. Through a lengthy process of trial and error, he learned to use a curtain rod to zipper his pants and a wooden cane to put on socks. With time, he would learn to knot a tie. To this day, dressing himself remains "the greatest accomplishment of my life," John said. "It was the only way I could go to Syracuse."