With the Sochi Winter Olympics less than six weeks away, two deadly explosions in the Russian of city of Volgograd have caused widespread concern for the upcoming games.
Interested in
?
Add as an interest to stay up to date on the latest news, video, and analysis from ABC News.
At least 14 people were killed aboard a trolleybus during today's morning commute and at least 28 people were hurt. The explosion comes after a suicide bombing in the city's main train station killed at least 17 people and injured more than 40 others over the weekend.
PHOTOS: Deadly Bombings in Russia Overshadow Olympics
The explosions have raised terrorism concerns in the weeks leading up to the 2014 Winter Olympic Games in Sochi, despite already heightened security measures.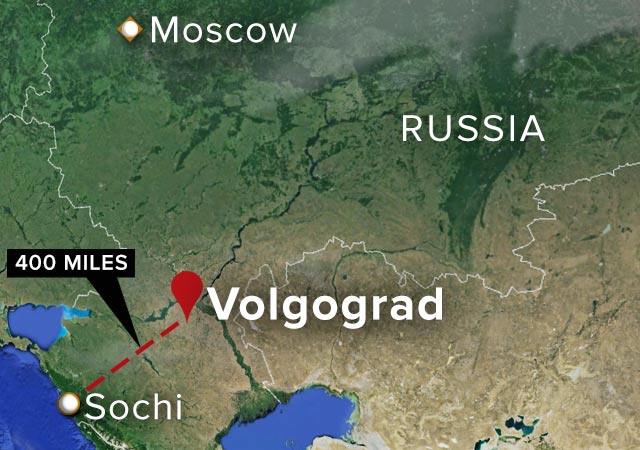 A few basic facts on the attacks and the upcoming games:
Where is Volgograd and how many people live there?
Volgograd is a city in southern Russia with a population of around 1 million people. It is about 400 miles northeast of Sochi, where the Olympics will take place.
Why would Volgograd be a target?
The city is a key transportation hub for the southern part of the country. It also has multiple bus routes that connect it to volatile areas in Russia's North Caucasus, according to the AP.
Who is responsible for the attacks?
Investigators say the two blasts are possibly connected, but no group has taken responsibility for the attacks.
Who are possible suspects in the bombing?
While no group has claimed responsibility for the explosions, threats have been made against the games and Volgograd itself is no stranger to attacks.
Chechen rebel leader Doku Umarov made a video earlier this year urging his followers to, "do their utmost to derail" the Sochi Olympics, which he described as "satanic dances on the bones of our ancestors." In October, there was another bus bombing in Volgograd and that attack was reportedly carried out by a female suicide bomber from Dagestan.
When are the Olympics?
The Olympics are from February 7 - 23. The Paralympics are from March 7 - 16.
Who is participating in the games?
About 2,500 athletes from dozens of countries are expected to participate in the games.