A Turkish Airlines plane crash-landed short of a runway on arrival at Amsterdam's Schipol airport and smashed into three pieces, killing at least nine people and injuring over 50, according to Dutch authorities.
The Boeing 737-800 was flying from Istanbul to Amsterdam with at least 134 people on board. The cause of the crash is not yet clear. "I can't tell you anything about how this happened. Our priority is helping people," Michel Bezuijen, acting mayor of Haarlemmermeer, told reporters.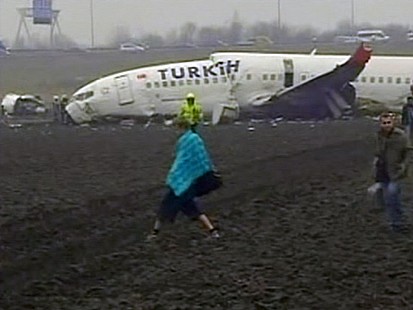 Flight TK 1951 crashed at 10:31 a.m. local time (0931 GMT) short of a runway at Europe's fifth-largest airport, and all air traffic was brought to a standstill.
"We are looking at a very large emergency ... it looks like we have lost a plane," said an air traffic controller in leaked recordings from the control tower.
"I was shaken awake and 10 seconds later we slammed into the ground," Mustafa Bahcecioglu, a Turkish passenger on the flight, told Dutch broadcaster the NOS.
Emergency services and locals immediately rushed to the scene to find dazed passengers walking away from the wreckage.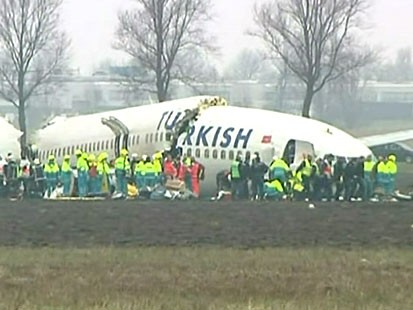 John Ansgar, who was driving nearby, jumped out of his car and ran to help the survivors. "Some of the people that had left the plane were lying on the ground, a lot of them had back injuries, and some were in shock," he told ABC News.
Bahcecioglu described a scene of chaos. "There are dead too, I am sure of that," he said. "And very many wounded. All that yelling and blood. I won the lottery: it is amazing that there's nothing wrong with me."
Ansgar arrived on the scene 14 minutes after the crash occurred, according to a message he posted on Twitter, the information-sharing Web site.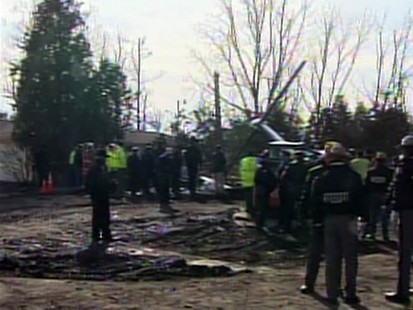 Already other eyewitnesses had described the scene of the crash on Twitter. "Looking at crashed airplane near Schiphol" one user, called Nipp, posted at 10:39.
"It looks like the plane is shredded," he wrote minutes later.
Photos of the crash were also uploaded onto the site within moments of the plane going down, as were eyewitness accounts from inside the airport. Several are saying the Web site carried the news long before any news organization.
"The plane split into three parts. We are calling people to say the situation is not very serious but there might be casualties on the front side of the plane," survivor Huseyin Sumer told CNN Turk by telephone just after the plane went down.
The middle of the plane appeared to be intact and about 30 or 40 people had easily exited, many of whom were shortly after phoning friends and family, according to Ansgar.
Ansgar, along with some local farmers, tried to pull some passengers out of the front of the plane, which was badly damaged.
"The seats were all crushed into each other...We could hear people underneath still screaming and yelling underneath the seats," he said.
According to Dutch authorities, of the nine dead, three were thought to be crew; six of the 50 wounded are in critical condition; and 25 are seriously injured. Some 84 people have been hospitalized.
Earlier there was some confusion over the exact number of dead. Initially the chief executive of Turkish Airlines said there were no fatalities but he was later corrected by a Turkish Transport Ministry official, who said there were seven dead. Several Turkish media outlets have reported that 10 people were killed.
Turkish Transport Minister Binali Yildirim said it was "a miracle" there were not more casualties. "The fact that the plane landed on a soft surface and that there was no fire helped keep the number of fatalities low," he said.
There is not yet any official word on precisely who was aboard the plane. The Turkish ambassador to the Netherlands, Selahattin Alpar, told the Anatolia news agency there were 72 Turks and 32 Dutch people on board. There was no information on the nationality of other passengers.
That the plane did not burst into flames on landing is leading some to speculate that it may have run out of fuel. "There appears to have been no fire, which could, and I stress could, indicate fuel starvation," Chris Yates, aviation safety and security editor for Jane's Transport, told ABC News.
Candan Karlitekin, the head of the airline's board of directors, told reporters that visibility was good at the time of landing.
"Visibility was clear and around 5,000 yards. Some 550 yards before landing, the plane landed on a field instead of the runway," he said.
"We have checked the plane's documents and there is no problem concerning maintenance," he added.
Turkish Airlines CEO Temel Kotil said the captain, Hasan Tahsin, was very experienced and a former air force pilot. Turkish officials said the plane was built in 2002 and last underwent a thorough maintenance on Dec. 22.
Gideon Evers, spokesman of the International Federation of Airline Pilots Associations, said the cause of the crash remained unclear. There was no indication that the crash had anything to do with fuel levels, Evers said, adding that regulations require all commercial flights to carry ample reserves.
"Certainly it appears to be an unusual circumstance, but as always the sensible course of action is to wait for the results of the investigation," he said.
The Dutch government pledged a swift investigation.
"Our thoughts go out to the people who were in the plane and of course also to those who are now waiting in uncertainty to hear about the fate of their loved ones," a government statement said.
Wim Kok, a spokesman for the Dutch Anti-Terror Coordinator's office, said terrorism did not appear to be a factor. "There are no indications whatsoever [of a terror attack]," Kok said.
Christine Brouwer and The Associated Press contributed to this report.