Taking a cue from dusky palettes seen on runways, more brides are turning increasingly to dark shades for their wedding invitations, decor and bridal party fashions, experts say.
"Over the last few years, we've definitely seen a trend of women choosing darker tones and colors for their announcements and invitations," Amber Harrison, wedding and etiquette maven for online stationer Wedding Paper Divas, told ABC News.
READ: 5 Fab Websites to Save Time and Money on Your Wedding
Leading wedding resource The Knot has also witnessed the trend among its members, noting a spike in moodier shades since 2008.
"Dark blue is the most popular wedding color, growing in popularity year over year, with 22 percent of brides using it in 2013, up from 10 percent in 2008," a Knot representative said. "Dark purple is also popular, with 20 percent of brides opting for the hue in 2013, up from 8 percent in 2008."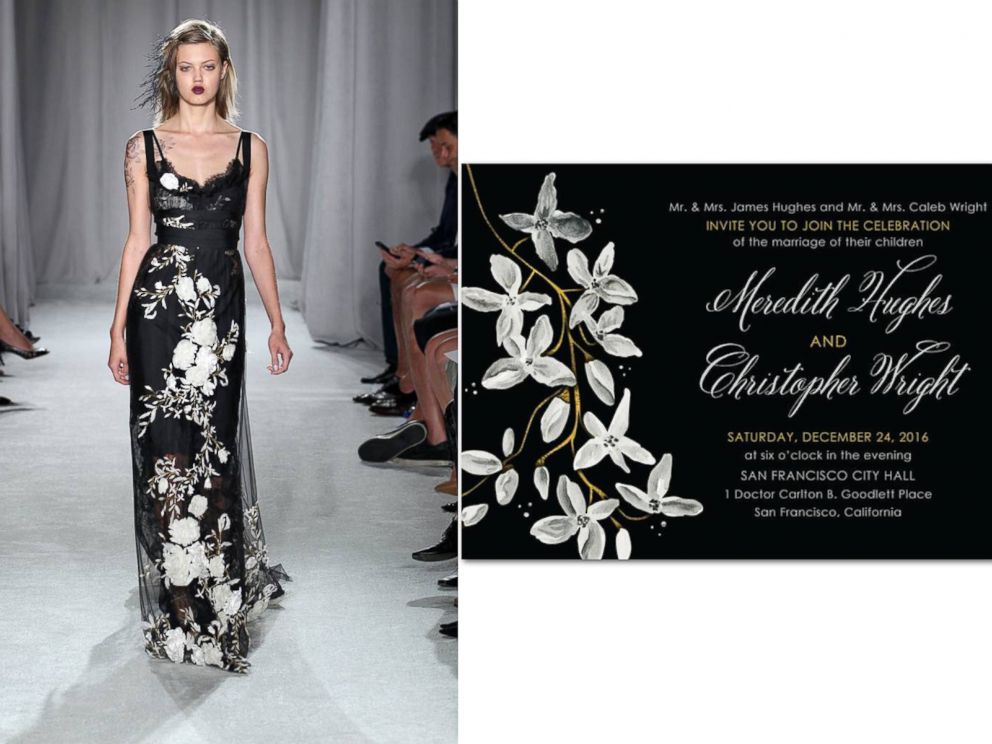 But those who identify with a navy, violet or pitch-black theme need not go completely goth. The latest invitation suites released by Wedding Paper Divas, a collaboration with couture label Marchesa, offer romantic interpretations of the trend. Launched this week, the third collection in a series of paper-based projects created in partnership with renowned fashion houses takes elements from the most recent runway looks and translates them to eight different 10-piece suites.
READ: Colorado Couples Say 'I Do' to Cannabis at Weddings
Some of the most striking paper offerings include hand-painted florals on a midnight background and an oversize floral combining purple, black and white that mirror a recent Marchesa ball gown print.
"Darker tones translate well to what the modern bride wants," Harrison said at a presentation for the new launch. "And the spring 2014 collection from Marchesa definitely lends itself to that."
The launch event, which was styled by HGTV host and boutique wedding planner Tracy Taylor Ward, even incorporated some of the evening hues to home decor elements that the bride can enjoy long after the big event.
"We took one of the Marchesa prints and had it transferred onto pillows using Shutterfly.com," Taylor Ward said. "It's a very easy way to incorporate your theme in other ways besides paper at your wedding. And you can use it at home on a couch or in the bedroom afterward."