"He actually went ... to prison," she said. "I divorced him [in] 2006 and sort of went into years of depression.
"It's just coming back to repair old wounds that have sort of set in, so it's not just what's on the outside," she said. "It feels like I'm shedding my old skin, leaving baggage behind."
Both Choi and Lim went to plastic surgeon Dr. Joo Kwon, the lead surgeon at a top clinic in South Korea. Between then, they underwent six procedures, spending nearly 10 hours on the operating table. Choi had her nose redone, her jaw slimmed, her eyes extended and fat moved from her abdomen to her forehead. Lim also had nose surgery and a jawline slimming procedure.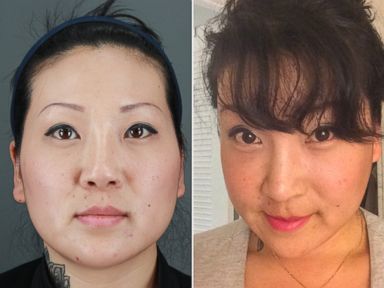 A few days later, they were recovering in neighboring twin beds in excruciating pain. Lim said she would never go through it again.
"It hurts so much," she said. "I can't even describe the pain. At nighttime, without the pills, I constantly feel like this knife [is] cutting through my bones, and I can't say anything because my mouth is open and I'm drooling and I have cotton up my nose from the nose surgery. ... No it was a nightmare."
Choi, too, felt regret after undergoing the surgeries.
"I've never gone through childbirth so I don't know what that kind of pain is like, but I feel like that this is the most pain that I have ever experienced in my life," she said. "I just feel like I sinned. I feel like I'm hearing God say, 'Sweetheart why would you do this? I made you perfect.' That's just the voice I kept hearing."
In the next few days after her surgery, Choi documented her recovery and, as the pain diminished, so did her regret.
Three months after Lim had her procedures, she was still lying in a hospital bed in almost unbearable pain. She was slightly less hard on herself than before when describing her looks.
"I wouldn't say pretty, but I can say that I look better now," she said. "I'm happy with this face now. I'll live with this face.
"It was worth it," she added. "But still, if I were to tell all my friends, if they don't have a problem living with their faces, a big face or whatever, I would tell them not to do it. I would tell them to get new friends who like their big faces."
As for Choi, three months after the surgery, the pain she suffered in that hospital bed in South Korea seemed worlds away.
"I love it. I feel softer. I feel more feminine. I have more confidence," she said. I really believed that death would have been better during those first few days of recovery, but it was well worth it.
"It's really been a sort of reflection of what transformation has been going on in the inside of me, and a lot of that is because I feel physically more attractive, and there is value to that," Choi added. "I'm meeting the world with a fresh face. ... Same firecracker personality, but a new outlook on life."