As a red sun rose over the Gulf of Mexico, all eyes were fixated on what was happening below the surface.
For five weeks, that broken well pipe 5,000 feet down has been spewing oil into the Gulf. Early this morning, BP technicians and engineers were preparing their best shot at stopping it.
At about the same time, Cathy Norman was boarding a helicopter to survey oil damage to an 80-square-mile tract of Louisiana coastline owned by the Wisner Donation, a charitable trust that she oversees.
The trust owns land that includes Port Fourchon, Louisiana's main oil port. It also owns nine miles of spectacular beach and wild marshlands that front on the Gulf of Mexico.
Oil Spill: Frustration Mounting
As Americans ate breakfast, topic No. 1 was the oil spill. It has been five weeks and counting, and frustration is mounting.
James Carville, a prominent Democrat, broke ranks to attack the president on "Good Morning America."
"It just looks like [President Obama's] not involved in this," Carville said. "Man, you got to get down here and take control of this."
Awhile later, "Nightline" joined Cathy Norman's brother, Don, a wildlife biologist and toxicologist, on a boat as he set out to do an assessment of the bird population on Wisner Trust lands.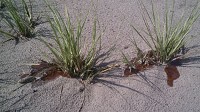 At this time of year there are more than 50 species of birds on these lands.
As we arrived at the beach, a work team overseen by the Army Corps of Engineers was scrambling to block a breach so that oil wouldn't enter the fragile marshlands.
It was already too late. Oil contamination was widely apparent.
"It's very likely that these birds that are oiled will not survive," said Don Norman. "If the bird has actually been feeding in the water that's got oil in it, it could be ingesting [oil] on or in the organisms it's [eating]."
Oil Spill: Tracking Impact on Wildlife
For 10 years Norman has been doing a census of the bird here. He has watched the population recover from the havoc of Hurricanes Katrina and Gustav. But for the last month, he has been waiting and wondering if BP's spewing oil well represents an even bigger threat.
"On Thursday I didn't see any oiled snowy egrets, and today at least 50 percent of them were oiled," Norman said. "So we know there is a lot of birds that were exposed, whereas last Thursday there was just oil on the beach.
"On some of these sandpipers, their legs are the wrong color because they have oil on them. The birds are not oiled themselves but their legs are dark. ... If they try to get that oil off, they might ingest it."
By mid-morning, as a dozen remote-controlled robots roamed the sea floor, BP engineers and technicians were still running diagnostic tests.
Just after 10 a.m., Cathy Norman met with a group of contractors she's been working with for several years on a multi-million dollar project to protect the beaches from erosion. With oil coming ashore, the entire project is now in question.
"I can tell you what's going on," she said, pointing to a map. "About right here ... to about right here ... it's 2.2 miles."
Then Norman pointed out spots where oil had entered the marshlands. "There's a breach, a major breach? another breach here ... and one over here."