Just two months ago, Michael Jackson was poised to make a big comeback, with 50 sold-out performances in London. Doctors even gave him a clean bill of health. For this fallen star, the future looked brighter than it had in years. But what the world and even some members of his own family didn't know was that Jackson may have had a secret: he was reportedly abusing prescription drugs and hiding it at any cost.
"Michael would make his mother, Katherine, wait outside his gate three, four hours, no matter what time of day or night it was," claimed Stacy Brown, author of "Michael Jackson: The Man Behind the Mask." "If he was high on drugs, so he could clean up. He didn't want her or his family to see that," he said.
In an interview with ABC's Chris Connelly, Jackson's father, Joseph Jackson, said he didn't know how bad things were. "I didn't know anything about the drugs. I didn't even know the name of them," he said.
It's a story that's become all too familiar recently. In June, popular TV pitchman, Billy Mays died of heart failure. Weeks later, the autopsy revealed cocaine as a "contributory cause of death." It's a finding his family -- especially brother Randy Mays -- won't accept.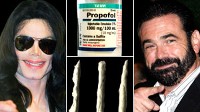 ABC News Photo Illustration
Watch "Nightline" TONIGHT at 11:35 p.m. ET for the full story.
"First of all, I'd like to just say, I'd like to see that report," he said. "That's not my brother, other than that, no comment. It's not Billy."
Beyond their fame, what Mays and Jackson may have had in common was keeping their addictions hidden from their families.
69-year-old Marilyn White lived a double life for 15 years. By day, she was a mother who worked a variety of jobs to make ends meet, but she also struggled with a secret addiction to alcohol that was quickly spiraling out of control.
"[I would] go to bars where I didn't know people and drink on my own, drink in the car, drink in the bathroom where you work, I had a flask in my briefcase," White recalled to ABC News.
With addiction, where there's a will, there's a way. "You put alcohol in the Listerine bottle - or you drink Listerine if you can't find any alcohol," said White, who also confessed to drinking perfume when she was desperate.
Growing up with an Alcoholic Mother
Thirty-five years later, what White regrets most is that her daughter Shelly also had to live with the addiction.
Now a grown woman, Shelly still remembers the anguish and uncertainty of growing up with an alcoholic mother.
"I think at 7, 8, 9 years old, you don't really know they're an alcoholic but you know something is wrong. It was just really very scary time. I think not knowing if she'd come home, what time she'd come home, who she'd come home with, if she'd come home. I wasn't a real happy kid."
White acknowledges that her addiction led to an unhealthy role reversal between mother and daughter.
"She took care of me a lot. Like I'd wake up in the morning and she took care of the coffee or she'd tell me I wore that outfit yesterday, don't wear that. She was always afraid something was going to happen to me, and she was right. Things did happen," White said.
Taconic Crash: Was Mother Hiding Addiction?
For White, the recent accident involving Diane Schuler, the mother who drove the wrong way down New York's Taconic Parkway, raises old wounds. Schuler was killed along with her daughter, three nieces, and three men in the SUV she crashed into. Schuler's son narrowly survived the accident.