The speaker of the Illinois House announced today he is creating a committee that will study whether impeachment proceedings should be initiated against Gov. Rod Blagojevich.
In the meantime, a lawyer who met with the governor over the weekend said today the case against Blagojevich is "significantly exaggerated."
Speaker Michael Madigan told reporters today the committee he is creating will meet everyday, except holidays, until a decision is reached.
Blagojevich was arrested last week on federal corruption charges, including trying to sell President-elect Barack Obama's vacant Senate seat.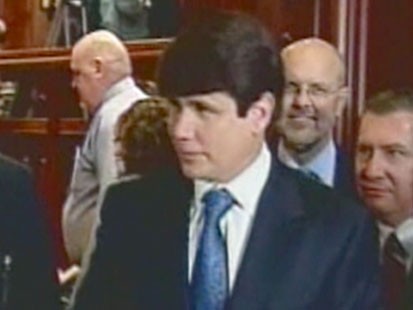 Chicago defense attorney Ed Genson, who met with Illinois Gov. Rod Blagojevich twice this weekend and expects to be retained today, said that the case against the governor is overblown and if he is retained, they will fight the charges.
"It's like a snowball running down the hill, and it's gotten really, really large. It's an avalanche now," Genson told reporters as he arrived at work Monday morning. It's just, it's not what people think it is."
The Illinois legislature met today for the first time since Blagojevich was arrested as measures to remove him proceeded on several fronts.
If the Madigan committee recommends impeachment, the full House would have to formerly file impeachment charges.
Blagojevich maintained his silence over the weekend.
He spent a second day holed up with Genson, a high profile lawyer who indicated Sunday after a long meeting with Blagojevich that he is ready to represent him.
Despite the governor's silence, the Illinois attorney general, making the rounds of the political talk shows in Washington, suggested Blagojevich's departure from office is imminent.
"We're really in a situation here in the state of Illinois where we don't have a governor who can legitimately govern," Illinois Attorney General Lisa Madigan said on CBS News' "Face the Nation."
Madigan, who is asking the Illinois Supreme Court to remove the disgraced governor, said Blagojevich might resign, or temporarily step down to keep his salary.
Blagojevich's spokesman Lucio Guerrero on Saturday dismissed rumors that the governor was prepared to resign on Monday. But he left open the possibility that he might resign later.
"Absolutely not true," Guerrero told ABC News. "There is zero chance of that... I know for sure not Monday."
The spokesman added, "I'm sure when his attorney says you need to resign, he will, but he hasn't said that and it's definitely not Monday."
Jeffrey Shaman, a law professor at DePaul University, says that process would be lengthy.
"It would have all the elements of a full-blown trial," Shaman said. "The governor would be able to defend himself and present witnesses. The attorney general with the prosecution would also present witnesses."
Illinois House Takes First Step Towards Gov. Rod Blagojevich Impeachment
For Obama, the pressure is building to explain exactly what contacts his staff had with the governor's office. For six days now, he has refused to divulge such details.
As Obama and his family shopped for a Christmas tree Sunday, Republicans called for a special election to fill the president-elect's former Senate seat.
They also launched an attack ad, using news reports detailing Obama's ties to the embattled Illinois governor, in an apparent attempt connect the president-elect to the growing scandal around Blagojevich.
Even prominent Democrats, including Pennsylvania Gov. Ed Rendell, have criticized the president-elect for not saying more, sooner.
"The rule of thumb is, whatever you did, say it and get it over with and make it a one-day story as opposed to a three-day story," Rendell said. "Politicians are always misjudging the intelligence of the American people."