For the first time since their Unity, N.H., event in June, Democratic presidential nominee Barack Obama was joined this evening by his formal rival, New York Sen. Hillary Clinton, at a campaign event in Florida.
Clinton was the first to speak, and immediately reminded voters of the election's proximity. The former first lady urged the crowd to hit the streets and make the calls needed to convince Florida's undecideds to vote for Obama.
"Tell them Hillary sent you to vote for Barack Obama," she exclaimed, then asked how many audience members had already voted.
Clinton again reminded supporters of the importance of the election and the impending deadline, encouraging them to keep on moving.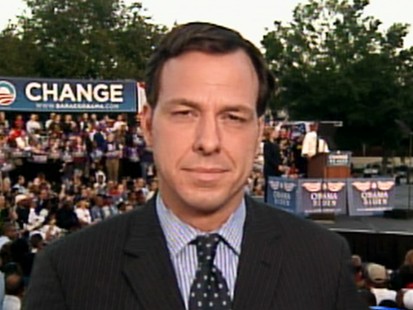 After Clinton concluded her remarks, Obama greeted the crowd with a "Hello, Orlando," then quickly launched into a slightly updated version of his standard stump speech.
Obama asked supporters to believe in themselves, and promised that if they stood with him and voted tomorrow, "We will take the country and change the world."
Both senators ended their day together just as they had started it: apart, rallying supporters to head to the polls on Florida's first day of early voting. The Sunshine State was hit harder by the housing crisis than almost any other state, which has helped make Florida more competitive in the presidential election.
Earlier in the day, Clinton appeared at an Obama rally in Broward County, one of the four counties at the center of the ballot recount debacle in the 2000 presidential election. Clinton urged voters to head to the polls immediately and vote under the state's early voting program.
While shielding herself from an unexpected drizzle, the former presidential candidate pressed supporters to "close the book" on the Bush administration's policies.
"Let's get as many votes banked as possible so we don't have any problems come Nov. 4," she shouted to the crowd from beneath her portfolio.
Clinton advised the audience not to take Obama's recent lead in the polls for granted.
"Even though the polls look good, do not get lulled into any false sense of security," she cautioned.
"We have to do everything we can," Clinton insisted. "You can skip the lines if you vote early."
According to experts, an estimated 30 percent of the electorate can vote early in this year's election, and in Florida, the number of early voters could be even higher.
In 2004, President Bush won Florida by 380,000 votes. According to the Obama campaign there are 800,000 likely Democratic voters -- African Americans, and white and Latino independents under the age of 30 -- who were registered four years ago but didn't get to the polls.
Referring to the campaign's push for early voting, University of Southern Florida Professor Darryl Paulson claims, "Part of their game plan is to make sure that these new voters who, often in times past, didn't show up on Election Day, in fact, do count."
In 2004, early voters in Jacksonville faced snags at the polls when polling machines wouldn't scan some ballots. Some voters waited more than 40 minutes to cast their votes.
"Obviously it's frustrating when we bought new equipment for this and we are having some problems that didn't show up at all during the testing," Duval County Supervisor of Elections Jerry Holland said.
For Florida voter Joseph Henry, early voting still "conjures up some concerns," but he said he feels that at this time, the problems voters faced in 2004 have been resolved.
Obama and the Rays Drive the Point Home
At a baseball field in Tampa today, Obama was introduced by members of the Tampa Bay Rays baseball team, who secured the American League Pennant the night before, and urged his supporters to cast their votes before Election Day.
The Democratic nominee didn't mention that, just a few weeks ago in the battleground state of Pennsylvania, he pledged his support for the Philadelphia Phillies, but he made sure to mention that early voting started today in Florida.
"You don't know what might happen on Nov. 4," he said, and then went on to offer a laundry list of potential Election Day mishaps.
"Your car might break down. You might have an emergency. You might -- the alarm might not go off. You don't get to work on time," he warned.
The Illinois senator then offered a hotline for those unsure of the location of their polling place.
"If you don't know where to go vote, call 877-2FL-Obama, 877-2FL-Obama," he offered.
"But we want everybody to go to the polls now, go early," he said. "We're gonna make sure your vote is counted."
Also participating in the rally at George Steinbrenner stadium, Sen. Bill Nelson, D-Fla., reminded supporters of the battleground state's political barometer.
"As goes the I-4 corridor, so goes Florida and so goes the nation," Nelson said. "So you see what a responsibility is resting on your shoulders."
Paul Gronke, a professor of political science at Reed College in Portland, Ore., says that since 2000, early voting has grown significantly, and a lot of states have adopted new laws and regulations in order to accommodate the trend.
There are 33 states that allow early in-person or "no excuse" voting. In 2000, 14 percent of the electorate was expected to participate in early voting, but it's estimated that this year, more than one-third of the electorate will vote before Nov. 4.
"A lot of voters have a lot of difficulty making it to the precinct on Election Day," Gronke said. "Maybe they're mothers at home with many kids, maybe they work the swing shift, maybe they drive on a long commute. This way, they can vote at their own convenience."
Obama Wins Powell's Vote and the 'Experience Argument'
In the Republican-leaning state of Missouri Saturday, Obama drew crowds of 75,000 in Kansas City and 100,000 in St. Louis, his biggest campaign crowd ever. The Obama campaign set another record Sunday and announced that it had raised $150 million in the month of September.
The weekend's biggest success, however, was earning the endorsement of Gen. Colin Powell over his old friend John McCain.
The former secretary of state announced his endorsement Sunday on NBC's "Meet the Press," saying that Obama is a transformational figure and that he "has demonstrated the kind of calm, patient intellectual steady approach to problem-solving that we need in this country."
While appearing on ABC's "This Week" Sunday, former Republican Speaker of the House Newt Gingrich said of Powell's endorsement: "What that just did in one soundbite, and I assume that soundbite will end up in an ad, is it eliminated the experience argument."
ABC News' Andy Fies, Avery Miller, and Natalie Gewargis contributed to this report.